The Cui Laboratory conducts translational cancer research to decipher biochemical and signaling mechanisms of cancer development, metastasis and therapeutic resistance. The Cui Lab aims to use these mechanisms to identify potential targets for therapeutic interventions of the signaling pathways. The ultimate goal is to develop effective anticancer therapies based on these targets.
The Cui Laboratory is affiliated with the Samuel Oschin Comprehensive Cancer Institute and Surgery Department.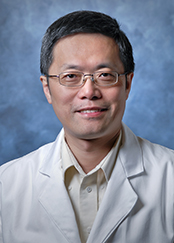 Xiaojiang Cui, PhD, obtained his doctorate in molecular biology from the University of Texas at Austin. He received his postdoctoral training at the renowned Baylor College of Medicine Lester and Sue Smith Breast Center in Houston where he later became an instructor. Cui studied growth factor signaling in the development of the mammary gland and breast cancer. His findings have important implications for understanding hormonal therapy response and the increased breast cancer risk after hormone replacement therapy.
---
Xiaojiang Cui, PhD
The Cui Laboratory has found that the FOXC1 transcription factor, which is involved in embryonic development, is a critical biomarker for BLBC. FOXC1 overexpression induces breast cancer cell growth, migration, invasion and chemo resistance. The Cui Lab is now using cell models to identify the signaling pathways mediating the effect of FOXC1 on BLBC cell functions. We also exploit mammary-specific overexpression and knockout mouse models to determine whether FOXC1 regulates BLBC development in vivo and predisposes breast cancer to brain and lung metastasis.

Meet Our Team
---
Learn more about the scientists, faculty members, investigators and other healthcare professionals of the Cui Laboratory, whose dedicated efforts lead to groundbreaking discoveries.
Jin L, Han B, Siegel E, Cui Y, Giuliano A, Cui X.
Cancer Biol Ther. 2018;19(10):858-868.
Sims JD, Taguiam JM, Alonso-Valenteen F, Markman J, Agadjanian H, Chu D, Lubow J, Abrol R, Srinivas D, Jain A, Han B, Qu Y, Mirzadehgan P, Hwang JY, Rentsendorj A, Chung A, Lester J, Karlan BY, Gray HB, Gross Z, Giuliano A, Cui X, Medina-Kauwe LK.
J Control Release. 2018 Feb 10;271:127-138.
Han B, Zhou B, Qu Y, Gao B, Xu Y, Chung S, Tanaka H, Yang W, Giuliano AE, Cui X.
Oncogene. 2018 Mar;37(10):1399-1408.
Contact the Cui Lab
8700 Beverly Blvd.
Davis Building, Rooms 2055 and 2056
Los Angeles, CA 90048