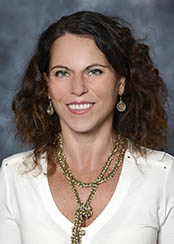 Personal Statement
I am a pathologist and a molecular and cell biologist trained at the Albert Einstein College of Medicine and Harvard Medical School. Since 2007, I have been on the faculty at Harvard University and currently hold an academic appointment as associate professor at Cedars-Sinai. My Di Vizio Laboratory studies the molecular mechanisms of progression to advanced disease in human tumors with a particular emphasis on large oncosomes. We are also focused on extracellular vesicles (EVs) shed into the extracellular space from fast migrating and metastatic amoeboid cancer cells. My team is currently profiling the large oncosomes and other EV populations by next generation sequencing and mass spectrometry. The National Cancer Institute, the Department of Defense and Avon Foundation all provide financial support for work in the Di Vizio Lab.
---
Dolores Di Vizio, MD
The role of large oncosomes in intercellular communication and in tumor growth and metastasis in prostate and breast cancers
Molecular mechanisms regulating the function of specific miRNA cargo of large oncosomes in breast and lung cancer progression
Molecular profiling of large oncosomes and other cancer-derived EVs by next generation sequencing and proteomics in prostate and breast cancer and in glioblastoma
Molecular mechanisms and functional consequences of the internalization of large oncosomes in recipient cells
Women's Cancer Program

Samuel Oschin Comprehensive Cancer Institute Cancer Biology Program

Michael Freeman, PhD; Wei Yang, PhD; and Jayoung Kim, PhD

Urologic Oncology Research Program

Leland Chung, PhD; Neil Bhowmick, PhD; and Edwin Posadas, MD, FACP

Clinical and Surgical Lung Cancer Program

Ronald Natale, MD, and Harmik J. Soukiasian, MD

Saul and Joyce Brandman Breast Center – A Project of Women's Guild


Armando Giuliano, MD, FACS, FRCSEd

The Pandol Laboratory
The Breakefield Lab, Massachusetts General Hospital, Harvard Medical School
The Demichelis Lab, University of Trento, Italy
The D'Souza-Schorey Lab, University of Notre Dame
The Fabbri Lab, Children's Hospital Los Angeles
Jeffrey Karp, PhD, The Harvard Stem Cell Institute, Harvard Medical School
The Rubin Lab, New York-Presbyterian/Weill Cornell Medical Center
Gary Schroth, PhD, Illumina
Meet Our Team
---
Learn more about the scientists, faculty members, investigators and other healthcare professionals of the Di Vizio Laboratory, whose dedicated efforts lead to groundbreaking discoveries.
Vagner T, Spinelli C, Minciacchi VR, Balaj L, Zandian M, Conley A, Zijlstra A, Freeman MR, Demichelis F, De S, Posadas EM, Tanaka H, Di Vizio D.

J Extracell Vesicles. 2018 Aug 7;7(1):1505403.

Nat Cell Biol. 2018 Mar;20(3):228–230.

Soekmadji C, Hill AF, Wauben MH, Buzás EI, Di Vizio D, Gardiner C, Lötvall J, Sahoo S, Witwer KW.

J Extracell Vesicles. 2018 Oct 24;7(1):1535745.

Contact the Di Vizio Lab
8700 Beverly Blvd.
Davis Building, Room 5094A
Los Angeles, CA 90048