The focus of the Ebinger Laboratory includes the use of clinically generated and administrated data to inform our understanding of healthcare delivery, opportunities for improvement and strategies that may help to close the quality gap in cardiovascular care. The rapid expansion of health technology, including the electronic health record, large clinical registries and wearable devices has reshaped the landscape of medicine and medical research. These vital sources of information allow us to understand what factors affect the provision of care and eventual clinical outcomes for our patients. The Ebinger Lab is specifically focused on using this information to better understand how care can be improved for cardiovascular conditions, while also decreasing the cost to the patient, health system and society.
The Ebinger Laboratory is affiliated with the Cedars-Sinai Smidt Heart Institute and Cardiovascular Population Sciences Public Health Research.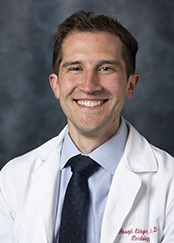 Personal Statement
I am a clinician-scientist interested in the use of clinically generated data to inform new scientific discovery and the integration of novel tools into clinical pathways to improve the value of cardiovascular care delivery. My lab focuses on leveraging the electronic health record, as well as other administrative and clinical datasets, to identify opportunities for improvement in care quality and efficiency. As a noninvasive cardiologist and board-certified hypertension specialist, my efforts are on reducing the burden of hypertension among vulnerable populations and helping clinicians improve control of blood pressure at a patient and population level."
---
Joseph E. Ebinger, MD
Clinical Decision Support Tools Integrated at the Point of Care Can Improve Quality and Decrease Costs
Significant and Important Differences Exist Between the Sexes in the Trajectory of Blood Pressure
Earlier High Blood Pressure Onset Associated With End-Organ Dysfunction
Meet Our Team
---
While the Ebinger Laboratory collaborates with countless individuals to perform our research, you're invited to learn more about our core team members.

Ebinger J, Henry T, Kim S, Inkelas M, Cheng S, Nuckols T.
J Am Heart Assoc. 2019 Nov 19;8(22):e013954.
Ebinger JE, Strauss CE, Garberich RR, Bradley SM, Rush P, Chavez IJ, Poulose AK, Porten BR, Henry TD.
Circ Cardiovasc Qual Outcomes. 2018 Apr;11(4):e004553.
Ji H, Kim A, Ebinger JE, Niiranen TJ, Claggett BL, Bairey Merz CN, Cheng S.
JAMA Cardiol. 2020 Mar 1;5(3):19-26.
Niiranen TJ, Suvila K, Suppogu N, Ebinger JE, Lima JAC, Bairey Merz CN, Cheng S.
Hypertension. 2019 Nov;74(5):e52-e53.
Contact the Ebinger Lab
Steven Spielberg Building, Room 270
8723 W. Alden Drive
Los Angeles, CA 90048