Lab Members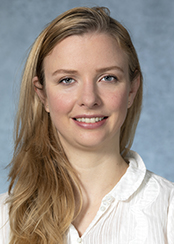 Sonja Fenske, PhD
Postdoctoral Scientist
Sonja Fenske, PhD, earned her master's in biomedical engineering with neurotechnology from Imperial College, London, as a Whitaker International Fellow, and her doctorate in neuroscience from the University of Southern California in 2020. Under the guidance of Jason J. Kutch, PhD, her thesis focused on brain-based prediction of human chronic pain progression, using resting- state fMRI connectivity and machine learning. Currently, in the Gao Lab, she uses neuroimaging analytical techniques to better understand heterogeneity in early brain connectivity.
Janelle Liu, PhD
Postdoctoral Scientist
Janelle Liu, PhD, earned her doctorate from the University of California, Los Angeles, in 2019. Under the guidance of Mirella Dapretto, PhD, she used neuroimaging techniques and behavioral measures to examine the early structural and functional architecture of the developing brain in infants at high and low risk for autism spectrum disorders (ASD). More specifically, Janelle used resting-state and task-based functional magnetic resonance imaging (fMRI) as well as diffusion tensor imaging (DTI) to investigate the development of language networks across the first year of life. As a postdoctoral scientist in the Gao Lab, she aims to better understand the etiology of neurodevelopmental disorders as well as the impact of environmental risk factors on early brain connectivity. She currently uses neuroimaging techniques and statistical models to examine the complex interplay between various risk factors such as prenatal drug exposure and socioeconomic status, early brain connectivity, and divergent cognitive outcome.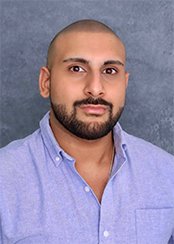 Sankalp Tikoo, PhD
Postdoctoral Scientist
Sankalp Tikoo received his PhD in neuroscience from the Sapienza University of Rome, Italy, in 2021. His doctoral research focused on exploring structural and functional alterations in medication-naive children with Tourette syndrome and obsessive-compulsive disorder. Sankalp is currently a postdoctoral scientist at the Cedars-Sinai Biomedical Imaging Research Institute, where he primarily focuses on delineating neurophysiological mechanisms underlying normal/abnormal human brain development using advanced neuroimaging techniques. Outside of work he enjoys traveling, photography and playing the ukulele.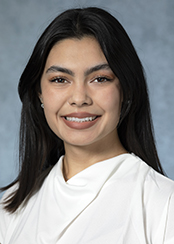 Laurel Gilabert
Clinical Research Associate I
Laurel Gilabert is currently a fourth-year psychology undergraduate student at the University of California, Santa Cruz (UCSC). Her research interests include neural development and neuroscience-informed interventions for treatment-resistant depression. She is particularly interested in the intersection between emotional disorders and the neurological mechanisms that underlie them. She plans to continue her education to obtain a PhD in neuroscience. Haitao Chen
Graduate Student
Haitao Chen received his bachelor of science degree at Peking University in Beijing, China in 2018, majoring in electrical engineering. He is currently a PhD student at UCLA, majoring in bioengineering. He is interested in neuroimaging data processing, with a focus on early brain development related to functional architecture using resting-state fMRI. He is currently focusing on functional development in infancy and early childhood, as well as its association with later behavioral outcomes.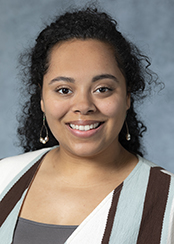 Siobhan Glynn
Graduate Student
Siobhan is a visiting student from UCLA. She is currently working with the Gao Lab and his team on the HEALthy Brain and Child Development (HBCD) and COVID-19 and Perinatal Experiences (COPE) studies. Siobhan is a first-year graduate student in the developmental psychology program at UCLA. She received her BA in psychology from Bryn Mawr College in 2017. Prior to graduate school, she worked as a research coordinator and lab manager for multiple research networks at the Biostatistics Center at Massachusetts General Hospital. She also worked as an applied behavioral therapist for children on the autism spectrum. Her studies at UCLA will focus on emotion understanding in typically developing young children and young children at risk for autism. Genesis Flores
Research Intern
Genesis Flores received her bachelor's degree in psychology from California State Polytechnic University, Pomona (Cal Poly Pomona) in fall 2020. As a research intern, Genesis works on the HEALthy Brain and Child Development (HBCD) study, as well as the COVID-19 and Perinatal Experiences (COPE) study. She plans to pursue a PhD in clinical psychology to better understand the development of brain systems that support socioemotional and cognitive behaviors in typically developing children and those with, or at risk for, neurodevelopmental disorders.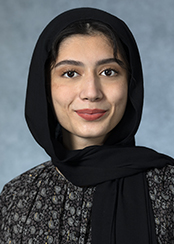 Saba Khan
Research Intern
Saba Khan is currently a second-year undergraduate student at UCLA, studying neuroscience and on the pre-med track. As an intern, her interests in research include data organization and analysis, as well as valuable patient interactions. She is specifically interested in brain development and the study of neurodegenerative diseases and hopes to further her research experience. In addition to her aspiration to be a neurosurgeon, she hopes to empower underserved communities and advocate for educational equity.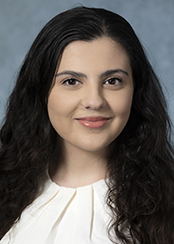 Nadia Said
Research Intern
Nadia is currently pursuing a bachelor of science in biology at Cal Poly Pomona. Her research interests include variables that affect maternal stress and how they play a role in infant development. She is also interested in neuropathology and obstetric pathology. Nadia enjoys patient interactions, especially with pregnant women, moms and babies. She likes learning from her peers and working collaboratively with her team. Because of her deep interest in women's healthcare, Nadia plans to work in obstetrics and gynecology as an MD. This will allow her to reach members of the community who have been lacking proper medical care and services.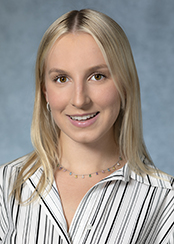 Nina Ulyanov
Research Intern
Nina Ulyanov is currently working on completing her bachelor's in biological sciences at the University of California, Santa Cruz (UCSC). She is a research intern in the Gao Lab working in the HEALthy Brain and Child Development study. As an intern she is driven to extrapolate and draw scientific discoveries from valuable data collected from mothers and babies. Her interests in this field include studying newborn and infant susceptibility to neurological stressors. She plans to further continue her education and go into pediatrics.
Alumni
---
Rachel Marcus, Clinical Research Associate I
Jhelum Paul, Graduate Student Master's Program
Andrew Salzwedel, Project Scientist
Feng Shi, Project Scientist
Susan Pendl, Postdoctoral Scientist
Yuanyuan Chen, Postdoctoral Scientist
Contact the Gao Lab
8700 Beverly Blvd.
Biomedical Imaging Research Institute
Los Angeles, CA 90048