The Gibb Laboratory investigates inflammatory mechanisms in patients with sickle cell disease (SCD) and lupus, focusing on mechanisms regulating immune responses to red blood cell (RBC) antigens (i.e., KEL antigens) following RBC transfusion. The goal of these studies is to understand why patients with SCD and autoimmunity have the highest incidence of these detrimental anti-RBC antibody responses, which cause potentially fatal hemolytic transfusion reactions and severely limit access to compatible blood for these populations. Specifically, the lab has uncovered a critical role for antiviral cytokines (type I interferons, IFNα/β) and IFNα/β-stimulated genes (ISGs) in these antibody responses. Disrupting this pathway prior to RBC transfusion may promote transfusion safety by preventing hemolytic transfusion reactions.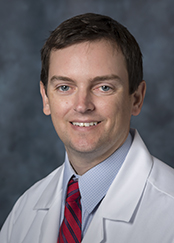 I am a physician-scientist in transfusion medicine and clinical pathology who is dedicated to discovering and translating immunologic findings into improved management of immune responses to RBC antigens. While completing my graduate training in B cell immunology, I was struck by the critical role of immune responses to self and foreign RBC antigens and the multitude of unanswered mechanistic questions underlying these responses. Thus, I applied my knowledge, skills and experience in basic immunology research to improve our understanding of clinically significant immune responses occurring in transfusion recipients, including patients with sickle cell disease.
---
David R. Gibb, MD, PhD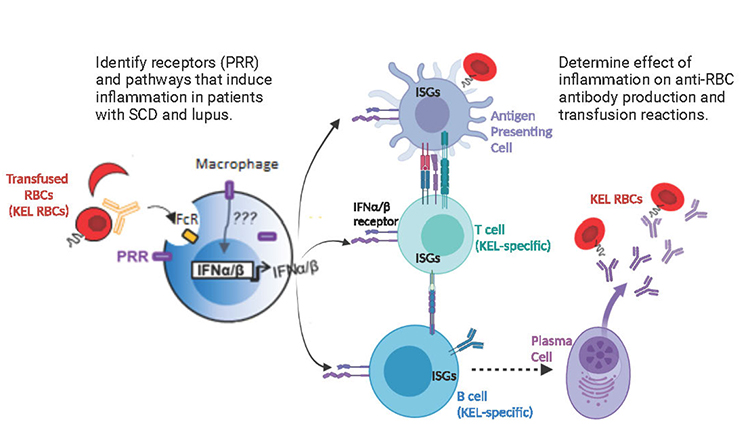 Elucidating the role of type I interferons in alloimmune responses to transfused RBC antigens
Investigating the mechanisms regulating RBC antibody responses in patients with sickle cell disease
Identifying the inflammatory pathways that promote RBC antibody responses in patients with lupus
Connie Arthur, PhD
Stephanie Eisenbarth, MD, PhD
Jeanne Hendrickson, MD
Krystal Hudson, PhD
Chance John Luckey, MD, PhD
Sean Stowell, MD, PhD
Ilene Weitz, MD
James Zimring MD, PhD
Meet Our Team
---
Learn more about the scientists, faculty members, investigators and other healthcare professionals of the Gibb Laboratory, whose dedicated efforts lead to groundbreaking discoveries of immune responses to blood transfusions.
Lee JY, Madany EM, El Kadi N, Pandya S, Ng K, Yamashita M, Jefferies C, Gibb DR.
Front Immunol. 2020. 11:584254. doi: 10.3389/fimmu.2020.584254.
Gibb DR, Liu J, Natarajan P, Santhanakrishnan M, Madrid D, Eisenbarth SC, Zimring JC, Iwasaki A, Hendrickson JE
J Immunol. 2017. Jun 19. pii: ji1700401. doi: 10.4049/jimmunol.1700401.
Madany E, Lee JY, Halprin C, Seo J, Baca N, Majlessipour F, Hendrickson JE, Pepkowitz SH, Hayes C, Klapper E, Gibb DR.
eJHaem. 2021;1–11. https://doi.org/10.1002/jha2.270.
Madany E, Okwan-Duodu D, Balbuena-Merle R, Hendrickson JE, Gibb DR.
Front Med. 2021. 8:679030. doi: 10.3389/fmed.2021.679030.