Research in the Goldhaber Laboratory is directed toward a more complete understanding of how cellular calcium regulates contractile and pacemaker function of the heart. A major focus is the role of membrane transporters, including the sodium-calcium exchanger (NCX), in this process. The lab uses sophisticated biophysical assays to study human and animal models of disease to understand the molecular mechanisms that cause heart failure and sinus node disease. Our methods include patch clamp, confocal microscopy, voltage and calcium mapping and genetic modification of murine models. 
The Goldhaber Laboratory is supported by funding from the National Institutes of Health Heart, Lung, and Blood Institute as well as the Department of Defense. Interested graduate students and postdoctoral scientists are encouraged to investigate our work and send inquiries about positions to rui.zhang@cshs.org.
The Goldhaber Laboratory is affiliated with the Cedars-Sinai Smidt Heart Institute and Department of Cardiology.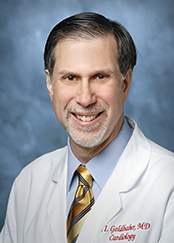 Personal Statement
"I invite you to get to know our research and our laboratory through our website and publications. You can also find out more information about me."
---
JOSHUA I. GOLDHABER, MD
Metabolic stress impairs calcium regulation and excitation-contraction (EC) coupling, resulting in contractile failure. 
Localized calcium release sites responsible for activating contraction, known as couplons, drop out during metabolic inhibition in a predictable fashion. 
At the subcellular level, EC coupling is fundamentally different in HFrEF and HFpEF: HFrEF involves failure of EC coupling and reduced "gain" of calcium-induced calcium release, while HFpEF enhances gain but is resistant to beta-adrenergic stimulation.
Sinoatrial node automaticity depends upon sodium-calcium exchange (NCX) and the calcium clock component of the coupled clock system.
Calcium overload from NCX ablation in the sinoatrial node activates small potassium (SK) channels, resulting in cessation of pacemaker activity.
Collaborations & Resources
---
Leica SP5 laser scanning confocal microscope specially outfitted with Molecular Devices, Inc. Axopatch patch clamp and bridge clamp setups as well as custom-designed perfusion and laser synchronization systems
Two custom patch clamp setups outfitted with epifluorescence and IonOptix dual ratiometric photometry and active sarcomere shortening
SciMedia MiCAM Optical mapping system for rodents
Broad array of molecular biology and biochemistry equipment
Cardiac cell isolation facility
High-performance computers for image analysis
Meet Our Team
---
Learn more about the scientists, faculty members, investigators and other healthcare professionals of the Goldhaber Laboratory, whose dedicated efforts lead to groundbreaking discoveries.
Kilfoil PJ, Lotteau S, Zhang R, Yue X, Aynaszyan S, Solymani RE, Cingolani E, Marbán E, Goldhaber JI.
J Physiol. 2020 Aug 23. Online ahead of print.
Yue X, Hazan A, Lotteau S, Zhang R, Torrente AG, Philipson KD, Ottolia M, Goldhaber JI.
Cell Calcium. 2020 Jan 30;87:102167.
Torrente AG, Zhang R, Zaini A, Giani JF, Kang J, Lamp ST, Philipson KD, Goldhaber JI.
Proc Natl Acad Sci U S A. 2015 Aug 4;112(31):9769-9774. 
Neco P, Rose B, Huynh N, Zhang R, Bridge JH, Philipson KD, Goldhaber JI.
Biophys J. 2010 Aug 4;99(3):755-764.
Contact the Goldhaber Lab
8700 Beverly Blvd.
Davis Building, Room 2058
Los Angeles, CA 90048