The Gonzalez Neurovascular Laboratory focuses on discovering, developing and translating novel forms of treatment for cerebrovascular disorders, derived from understanding and applying the mechanisms of angiogenesis as therapeutic targets.
Angiogenesis is a fundamental process in maintaining, remodeling and repairing tissues after injury. Angiogenesis has been a focus of research in tumor pathology, and the understanding of its complex mechanisms has led to the development of novel, effective antitumoral agents. Despite advances, the role of angiogenesis in cerebral ischemic disorders is not well understood. Our basic science, translational and clinical research centers on synergistic projects to elucidate the mechanisms of angiogenesis, with the ultimate goal of prevention and repair after cerebral ischemia, intracranial atherosclerosis and other arterial steno-occlusive disorders.
Current investigations in the Gonzalez Lab include:
Evaluation and application of synangiosis, a process by which collaterals are formed to ischemic territories by apposition of vessels from the extracranial circulation to cerebral ischemic tissue
Identification and characterization of the circulating profiles of cytokines involved in innate collateral formation, protection from stroke, and post-ischemic repair
Development of new therapeutic strategies to enhance collateral vessel growth to hypoxic areas of the brain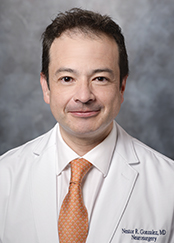 The goal of the Gonzalez Laboratory is to evaluate the role of angiogenic factors in the development of stroke and transient ischemic attack in patients with internal carotid artery stenosis (ICAS). We also focus on the effects of encephaloduroarteriosynangiosis (EDAS) revascularization in the local cerebral microenvironment and the potential role of circulating angiogenic cells in this process.
---
Nestor R. Gonzalez, MD
The Gonzalez Neurovascular Laboratory has been working in concert with clinical and translational research efforts to study the process of angiogenesis in individuals with cerebrovascular steno-occlusive disorders, such as moyamoya disease and intracranial atherosclerosis (ICAS).
Collaborations & Resources
---
Zeiss Stereo V12 M2 Bio System Microscope, with transmitted-light equipment and cold-light source Zeiss CL 9000 LED CAN (D Day Light Filter CL LED). Fluoroscopy filters KSC 296-49030 — indocyanine green, KSC 296-814D GFP Cube Bandpass, KSC 296-818D Texas Red Cube, KSC 296-820D DAPI Cube
Microscopy Camera Axiocam 105 color with driver software, USB 3.0 PCIe
Aushon Multiplex Cirascan Imaging and Analysis System hardware and software settings, including CCD Imager with built-in display
Meet Our Team
---
Learn more about the scientists, faculty members, investigators and other healthcare professionals of the Gonzalez Laboratory, whose dedicated efforts lead to groundbreaking discoveries.
Gonzalez NR, Jiang H, Lyden P, et al.

Int J Stroke. 2020;October:(online ahead of print)

Jiang, H, Toscano JF, Song SS, Schlick KH, Dumitrascu OM, Pan J, Lyden PD, Saver JL, Gonzalez NR

Gonzalez NR, Liou R, Kurth F, Jiang H, Saver J.

Angiogenesis. 2018;21:23-35

Contact the Gonzalez Lab
127 S. San Vicente Blvd.
Advanced Health Sciences Pavilion, Suite A6600
Los Angeles, CA 90048