The Goodarzi Laboratory, focused on endocrine genetics, seeks to elucidate the genetic determinants of diabetes and related conditions, using a population genetic approach. Particular areas of interest include insulin resistance and clearance, atherosclerosis in people of Hispanic origin and polycystic ovary syndrome. Technologies used include high-throughput genotyping of single nucleotide polymorphisms and other genetic markers. These markers are then analyzed for association with traits of interest. Sequencing in critical gene regions to identify mutations that may be responsible for disease follows positive results.
Goodarzi also leads the Microbiome and Insulin Longitudinal Evaluation Study, which is the first prospective study examining the effects of the gut microbiome and diet on insulin resistance, insulin sensitivity and insulin clearance, to establish the causal role of gut microbes in the development of diabetes. Goodarzi also leads the Type 3c Diabetes Working Group within the U01-funded Consortium for the Study of Chronic Pancreatitis, Diabetes and Pancreatic Cancer, where he seeks to elucidate the pathophysiology of pancreatogenic diabetes using genetic and physiologic approaches.
The Goodarzi Laboratory is affiliated with the Department of Medicine and Medical Genetics Research Institute.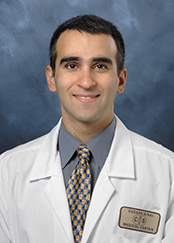 I am the director of the Division of Endocrinology, Diabetes and Metabolism, Department of Medicine, at Cedars-Sinai and professor of medicine at Cedars-Sinai and the David Geffen School of Medicine at UCLA. I also hold the Eris M. Field Endowed Chair in Diabetes Research at Cedars-Sinai. I am both a diabetologist-endocrinologist and a molecular geneticist, and am head of the Endocrine Genetics Laboratory at Cedars-Sinai."
---
Mark O. Goodarzi, MD, PhD
Major areas of research in the Goodarzi Laboratory include investigating the genetic and physiologic regulation of insulin clearance and insulin resistance, with a focus on phenotyping of these traits by physiologic infusion studies such as the euglycemic clamp and frequently sampled intravenous glucose tolerance test. 
NCBI - dbSNP Short Genetic Variations
The Single Nucleotide Polymorphism database (dbSNP) is a public-domain archive for a broad collection of simple genetic polymorphisms.
UCSC Genome Bioinformatics
This UCSC Genome Browser website contains the reference sequence and working draft assemblies for a large collection of genomes.
GTEx
The Genotype-Tissue Expression Project is a publicly available resource that provides correlations between millions of genetic variants and gene expression level (expression quantitative trait loci: eQTL) in many tissues.
Meet Our Team
---
Learn more about the scientists, faculty members, investigators and other healthcare professionals of the Goodzari Laboratory, whose dedicated efforts lead to groundbreaking discoveries.
Lancet Diabetes Endocrinol. 2018 Mar;6(3):223-236. 
Jones MR, Brower MA, Xu N, Cui J, Mengesha E, Chen YDI, Taylor KD, Azziz R, Goodarzi MO. 
PLOS Genet. 2015 Aug 25;11(8):e1005455.
Brower MA, Jones MR, Rotter JI, Krauss RM, Legro RS, Azziz R, Goodarzi MO.
J Clin Endocrinol Metab. 2015 Jan;100(1):E182-186.

Contact the Goodarzi Lab
8700 Beverly Blvd.
Davis Building, Room 3008
Los Angeles, CA 90048