The Goodridge Lab focuses on researching the production and diverse functions of innate immune cells known as monocytes and macrophages. Macrophages are found in tissues throughout the body, while monocytes circulate in the blood and can be recruited to tissues, where they transform into macrophages. Collectively, these cells play crucial roles in tissue development and homeostasis, defense against invading pathogens, inflammation and tissue repair.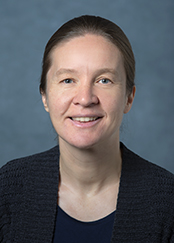 Personal Statement
We study monocyte and tissue macrophage heterogeneity, pathways and mechanisms of monocyte production and the diverse roles of microglia (the brain's resident macrophages). We are also interested in sex differences and the impact of aging, as well as macrophages as targets and tools to treat human diseases."

---
Helen Goodridge, PhD
Breakthrough Research
We are defining how the origins of monocytes and macrophages shape their functional diversity and investigating how aging and sex differences impact their behavior and their influence on other cells and tissues.
Publications
---
Learn more about the recent research publications from the Goodridge Lab.

Laboratory Team
Learn more about the scientists, faculty members, investigators and other healthcare professionals of the Goodridge Lab, whose dedicated efforts lead to groundbreaking discoveries.
Job Opportunities
We are actively recruiting students and postdocs to be our colleagues and expand lab knowledge and expertise to make important breakthroughs.

Collaborations
---
The Goodridge Lab collaborates with a wide range of investigators within Cedars-Sinai and institutions around the world.

Contact the Goodridge Lab
8700 Beverly Blvd.
Advanced Health Sciences Pavilion, Eighth Floor
Los Angeles, CA 90048