The Hazelett Laboratory is working to understand how genetic variation contributes to disease etiology. One of the keys to unlocking the mechanisms of initiation and progression is understanding the epigenome — modifications to the packaging of DNA in chromatin that determine gene regulation — and how it relates to genetic variation.
This challenge can be subdivided into smaller related questions:
What cell types are the most relevant to disease etiology for each genetic association?

What genes are the targets of altered/disrupted regulatory elements?

What are the fundamental rules governing the interactions between genes and regulatory elements?

The Hazelett Laboratory is affiliated with the Cedars-Sinai Department of Biomedical Sciences.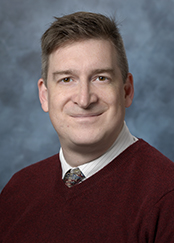 Trained as a geneticist in the field of developmental biology, I have a broad background in both experimental and computational biology. I rely on a systems-biology approach to the analysis and synthesis of next-generation sequencing data. My most recent contributions are highlighted by efforts to annotate the functional consequences of genetic associations from genome-wide association studies (GWAS) for prostate cancer, Hodgkin's lymphoma and ovarian cancers.
---
Dennis Hazelett, PhD
Functional Interpretation of Genome-Wide Association Studies
Mutations in Cancer

Bioinformatics Tools

Gene Regulation

Collaborations & Resources
---
Meet Our Team
---
Learn more about the scientists, faculty members, investigators and other healthcare professionals of the Hazelett Laboratory, whose dedicated efforts lead to groundbreaking discoveries.
Kar S, Adler E, Tyrer J, Hazelett D, Anton-Culver H, Bandera EV, Beckmann MW, Berchuck A, Bogdanova N, Brinton L, et al.
Br J Cancer. 2017 Feb 14;116(4):524-535.
Amos C, Dennis J, Wang Z, Byun J, Schumacher FR, Gayther SA, Casey G, Hunter DJ, Sellers TA, Gruber SB, Dunning AM, Michailidou K, Fachal L, Doheny K, Spurdle AB, Li Y, Xiao X, Romm J, Pugh E, Coetzee GA, Hazelett DJ, et al.
Cancer Epidemiol Biomarkers Prev. 2017 Jan;26(1):126-135.
Rand KA, Song C, Dean E, Serie DJ, Curtin K, Sheng X, Hu D, Huff CA, Bernal-Mizrachi L, Tomasson MH, …, Hazelett DJ, et al.
Cancer Epidemiol Biomarkers Prev. 2016 Dec;25(12):1609-1618.
Contact the Hazelett Lab
8700 Beverly Blvd.
Steven Spielberg Building, Suite 100
Los Angeles, CA 90048