The Jefferies Laboratory is focused on understanding the role that RNA/DNA sensing mechanisms in monocytes and neutrophils play in driving autoimmune disease. The lab's main area of focus is understanding these pathways in lupus, a debilitating, chronic autoimmune disease that presents as a broad spectrum of symptoms and manifestations. Patients with lupus have increased expression of interferon-stimulated genes (ISGs), a signature that correlates directly with disease activity. A feature of lupus is that women are more likely to get the disease; therefore, the Jefferies Lab is also studying how estrogen and steroid hormones affect these pathways.
The Jefferies Laboratory is affiliated with the Cedars-Sinai Department of Medicine, Department of Biomedical Sciences and Rheumatology.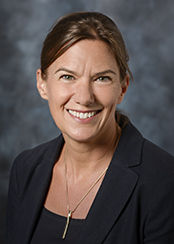 My goal is to uncover the fundamental mechanisms that lead to the development of lupus and discover ways to use this knowledge to better treat and manage this debilitating disease. To achieve this, I have focused on establishing strong working collaborations with leading rheumatologists, both in the U.S. and Ireland who specialize in lupus research.
---
Caroline Jefferies, PhD
Understanding the Interferon Signaling Pathway in Lupus Neutrophils
Investigating Crosstalk Among Estrogen, RNA/DNA Sensing and IFN in the Immune Response in SLE

Neutrophils, Endoplasmic Reticulum Stress and Lung Disease

CREWHS: Call for Applications
---
The Center for Research in Women's Health and Sex Differences (CREWHS) is calling for investigators to submit their research on women's health or sex differences. Winners of the award will receive up to $50,000 (direct costs) for a year with a potential to extend for a second year.
Please submit your research application via email at groupwomenshealthresearchadmin@cshs.org by 5:00 p.m. on Friday, June 23, 2023. Winners will be notified in July.

Meet Our Team
---
Learn more about the scientists, faculty members, investigators and other healthcare professionals of the Jefferies Laboratory, whose dedicated efforts lead to groundbreaking discoveries.
Smith S, Fernando T, Wu PW, Seo J, Ní Gabhann J, Piskareva O, McCarthy E, Howard D, O'Connell P, Conway R, Gallagher P, Molloy E, Stallings RL, Kearns G, Forbess L, Ishimori M, Venuturupalli S, Wallace D, Weisman M, Jefferies CA.
J Autoimmun. 2017 May;79:105-111.
McCarthy EM, Smith S, Lee RZ, Cunnane G, Doran MF, Donnelly S, Howard D, O'Connell P, Kearns G, Ní Gabhann J, Jefferies CA.
Rheumatology (Oxford). 2014 Sep;53(9):1586-1594.
Ní Gabhann J, Hams E, Smith S, Wynne C, Byrne JC, Brennan K, Spence S, Kissenpfennig A, Johnston JA, Fallon PG, Jefferies CA.
PLOS ONE. 2014 Jan 21;9(1):e85834.
Contact the Jefferies Lab
8700 Beverly Blvd.
Davis Building, Room 5094E
Los Angeles, CA 90048