The Jorth Laboratory works to understand how microbes evolve during chronic infections to resist therapeutic treatment and affect the immune system.
Pseudomonas aeruginosa (P. aeruginosa) causes lifelong chronic infections in people with cystic fibrosis. The Jorth Lab has shown that P. aeruginosa diversifies during these infections into genetically complex populations that can include antibiotic resistant and susceptible bacterial siblings. These mixed populations likely contribute to treatment failure.
By using the latest genomic and imaging tools, the Jorth Lab seeks to better understand how mutant bacteria evolve during these infections with the ultimate goals of identifying novel targets and developing new treatments to combat antibiotic resistant bacteria.

The Jorth Laboratory is affiliated with the Cedars-Sinai Pathology and Laboratory Medicine Department, Medicine Department, Department of Biomedical Sciences and Women's Guild Lung Institute Research.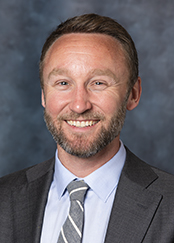 The goals of the Jorth Laboratory are to determine the genetic mutations leading to antibiotic resistance in chronic bacterial infections and determine the secondary effects of antibiotic resistance mutations on bacterial virulence. Peter Jorth, PhD, has diverse scientific training in microbiology, molecular biology, systems biology, bioinformatics, genetics, host-pathogen interactions, immunology and biochemistry.
---
Peter Jorth, PhD
Evolution During Chronic Cystic Fibrosis Infection and Antibiotic Resistance
Virulence and Host-Pathogen Interactions
How the Microbiome Changes Both Compositionally and Functionally During Different Disease States and Treatments
Collaborations & Resources
---
Meet Our Team
---
Learn more about the lab members of the Jorth Laboratory, whose dedicated efforts lead to groundbreaking discoveries.
Jorth P, Ehsan Z, Rezayat A, Caldwell E, Pope C, Brewington JJ, Goss CH, Benscoter D, Clancy JP, Singh PK.
Cell Rep. 2019 Apr 23;27(4):1190-1204.
Jorth P, McLean K, Ratjen A, Secor PR, Bautista GE, Ravishankar S, Rezayat A, Garudathri J, Harrison JJ, Harwood RA, et al.
MBio. 2017 Oct 31;8(5):e00517-17.
Jorth P, Staudinger BJ, Wu X, Hisert KB, Hayden H, Garudathri J, Harding CL, Radey MC, Rezayat A, Bautista G, et al.
Cell Host Microbe. 2015 Sep 9;18(3):307-319.
Contact the Jorth Lab
127 S. San Vicente Blvd.
Advanced Health Sciences Pavilion, Room 9600
Los Angeles, CA 90048