The goal of the Knott Laboratory is to develop cancer treatment strategies that are focused on the hetero-cellular interactions within tumors that drive disease progression. This work entails developing and interrogating models of resistance to already established as well as experimental therapies. In addition, the Knott Lab applies novel profiling methods to study patient tumors so that the cellular interactions driving the diseased tissue can be ascertained. By applying the knowledge gained from studying clinical material to focus questions asked of the model systems, the Knott Lab hopes to identify rationally guided therapeutic strategies to halt disease progression.
The Knott Laboratory is affiliated with the Cedars-Sinai Department of Biomedical Sciences.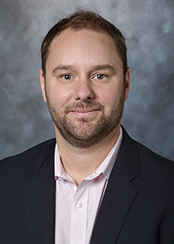 Personal Statement
I am an assistant professor and associate director of the Center for Bioinformatics and Functional Genomics at Cedars-Sinai. My laboratory is focused on understanding the mechanisms that cancer cells use to evade standard of care and experimental therapies. This entails developing and analyzing mouse models of drug resistance as well as profiling patient tumor material to identify cellular pathways that are amplified in response to the therapeutic onslaught."
---
Simon Knott, PhD
The Knott Laboratory is interested in a variety of research topics. The lab currently has three main areas of focus: Tumor Heterogeneity, Hetero-Cellular Interactions in Tumors and Technology Development.
Meet Our Team
---
Learn more about the scientists, faculty members, investigators and other healthcare professionals of the Knott Laboratory, whose dedicated efforts lead to groundbreaking discoveries.
Knott SRV, Wagenblast E, Khan S, Kim SY, Soto M, Wagner M, Turgeon MO, Fish L, Erard N, Gable AL, et al.
Nature. 2018 Feb 15;554(7692):378-381. 
Erard N, Knott SRV, Hannon GJ.
Mol Cell. 2017 July 20;67(2)348-354.
Wagenblast E, Soto M, Gutiérrez-Ángel S, Hartl CA, Gable AL, Maceli AR, Erard N, Williams AM, Kim SY, Dickopf S, Harrell CJ, Smith AD, Perou CM, Wilkinson JE, Hannon GJ, Knott SR.
Nature. 2015 Apr 16;520(7547):358-362. 
Contact the Knott Lab
8700 Beverly Blvd.
Steven Spielberg Building, Suite 100 
Los Angeles, CA 90048