The Koltsova Laboratory, led by Ekaterina Koltsova, MD, PhD, works to uncover immune-mediated mechanisms implicated to various immune-mediated pathologies such as atherosclerosis, abdominal aortic aneurysm (AAA), obesity and cancer. We are interested in understanding how distinct cytokines locally and systemically shape inflammatory environments during disease pathogenesis. In our research we work with models of atherosclerosis, abdominal aortic aneurysm and liver cancer, coupled with systemic and cell type-specific knockouts of cytokine receptors, to study the role of microbiota, microbiota-dependent metabolites and hematopoietic stem cell response to disease-related stress stimuli.
The main research directions in the lab include:
Role of cytokine signaling in the regulation of microbiota in cardiovascular diseases.
Role of cytokines in the control of hematopoietic stem cell metabolism and function in cardiovascular diseases
Cytokines in the control of anti-cancer immune response on liver and colon cancers.

The lab is affiliated with Cedars-Sinai Samuel Oschin Comprehensive Cancer Institute, Smidt Heart Institute, Department of Medicine, and Department of Biomedical Science.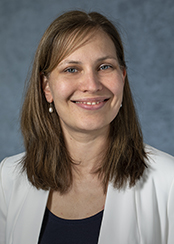 Personal Statement
Being trained as vascular immunologist, I am passionate about uncovering immune mechanisms and their involvement with pathogenesis of cardiovascular diseases. I am a proponent of curiosity-driven science and the philosophy of my lab is to go for new and important questions at the intersection of various disciplines, and to vigorously follow up on unexpected observations during the inception of the project to discover something new."

---
Ekaterina Koltsova, MD, PhD
Link between host microbiome, metabolites, inflammation and atherosclerosis.
The role of cytokine signaling in adipose tissue inflammation and its contribution to atherosclerosis and cancer.
How cytokines regulate bone marrow hematopoietic stem cells to promote abdominal aortic aneurysm (AAA).
Role of inflammation and cytokines in liver and colon cancers.

Kerry Campbell Lab (FCCC)
Stephen Sykes Lab (Wash U)
Giorgio Trinchieri Lab (NIH)
Meet Our Team
---
Learn more about the scientists, faculty members, investigators and other healthcare professionals of the Koltsova Laboratory, whose dedicated efforts lead to groundbreaking discoveries.

Job Openings
---
The Koltsova Lab is actively recruiting students and postdocs to be our colleagues and expand our knowledge and expertise to make important discoveries in the field of inflammation and immunity in cardiovascular diseases and cancer. We are looking for energetic and passionate colleagues to join us. If you are interested, please email ekaterina.koltsova@cshs.org.
Aghayev T, Mazitova AM, Fang JF, Peshkova IO, Rausch M, Hung M, White KF, Masia R, Titerina EK, Koltsova EK, et al.
Cancer Discov. 2022 Jun 20:candisc.1628.2020-11-7 00:59:46.747.

Peshkova IO, Aghayev T, Fatkhullina AR, Makhov P, Titerina EK, Eguchi S, Tan YF, Kossenkov AV, Khoreva MV, Koltsova EK, et al.
Nat Commun. 2019 Nov 6;10(1):5046.

Fatkhullina AR, Peshkova IO, Dzutsev A, Aghayev T, McCulloch JA, Thovarai V, Badger JH, Vats R, Sundd P, Koltsova EK, et al.
Immunity. 2018 Nov 20;49(5):943-957.e9.

Koltsova EK, Garcia Z, Chodaczek G, Landau M, McArdle S, Scott SR, von Vietinghoff S, Galkina E, Miller YI, Acton ST, Ley K.
J Clin Invest. 2012 Sep;122(9):3114-26.
Contact the Koltsova Lab
8700 Beverly Blvd.
Davis Building, Suite 2089
Los Angeles, CA 90004