The primary focus of the Koronyo-Hamaoui Laboratory is on early diagnosis and immune-based therapies for Alzheimer's disease (AD). A feasible noninvasive test to identify patients early on, which is essential for effective treatment, is an urgent unmet need. The Koronyo-Hamaoui Laboratory has shown, for the first time, that the hallmark pathology of AD, amyloid-β protein (Aβ) plaque, is present in the retina of human patients beginning at early stages. Furthermore, a unique approach has been developed in this lab to detect plaques in the retina of live rodent models by a noninvasive optical retinal imaging. This innovation unveils new possibilities for investigation of Alzheimer's pathology in the retina. It may also facilitate early diagnosis and noninvasive monitoring of disease progression.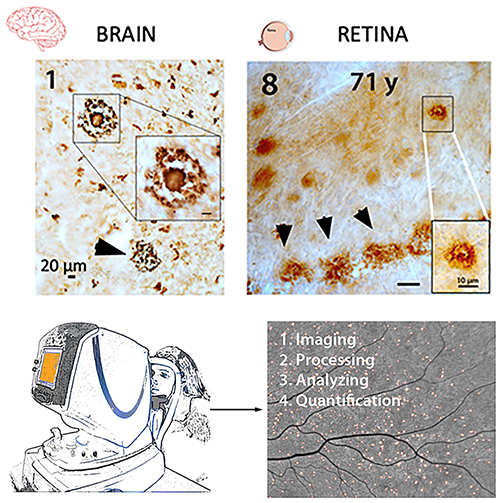 A large body of evidence accumulated over the past years suggested that the peripheral immune system plays a critical role in repair and regeneration of the central nervous system. This lab has demonstrated that harnessing peripheral immunity in murine transgenic models of AD via immune-modulating antigens, such as glatiramer acetate and MOG45D loaded on dendritic cells, stimulated recruitment of monocytes to the brain. This immunization approach leads to a reduction of harmful inflammation, toxic Aβ and scar tissue pathology, while restoring neurogenesis and cognitive functions. The lab further explores possibilities of utilizing inflammatory monocyte enrichment and the use of angiotensin-converting enzyme (ACE) overexpression in monocytes to counter AD progression. The Koronyo-Hamaoui team seeks to further identify and characterize new immunological mechanisms that help attenuate AD progression.
A wide range of leading and traditional laboratory techniques are being applied. Among them are molecular genetics and quantitative gene expression analyses, protein expression and structural assessments, primary brain and immune cell culture assays, advanced confocal microscopy, and techniques involving live animals (such as behavioral/cognitive testing, immunizations and adoptive transfer of bone marrow-derived monocytes, and in vivo optical imaging of retina and brain).
The Koronyo-Hamaoui Laboratory is affiliated with the Maxine Dunitz Neurosurgical Institute, Alzheimer's Disease Research Center and Neurosurgery Department.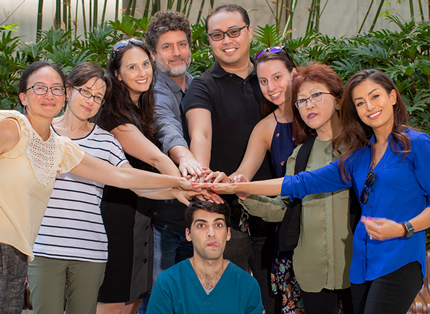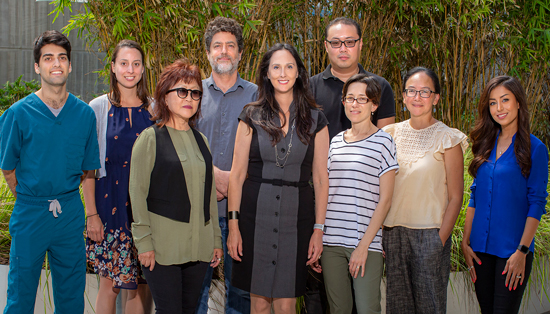 Identification of Alzheimer's Disease Pathology in the Retina
Development of the First-Ever Noninvasive High-Resolution Retinal Amyloid Imaging Methodology in Animal Models and Human Patients
Novel Immunomodulation Approaches for Combatting AD
First Demonstration of Spontaneous Infiltration of Peripheral Monocytes into the Brain Parenchyma of Murine Models of Alzheimer's Disease
Discovery of the Therapeutic Effects of Bone Marrow-Derived Monocytes in Synaptic and Cognitive Preservation
The Novel Role of OPN/SPP1 in Macrophage-Mediated Cerebral Clearance of Aβ
Meet Our Team
---
Learn more about the scientists, faculty members, investigators and other healthcare professionals of the Koronyo-Hamaoui Laboratory, whose dedicated efforts lead to groundbreaking discoveries.
Koronyo Y, Rentsendorj A, Mirzaei N, Regis GC, Sheyn J, Shi H, Barron E, Cook-Wiens G, Rodriguez AR, Koronyo-Hamaoui M, et al.
Acta Neuropathol. 2023 Apr;145(4):409-438. doi: 10.1007/s00401-023-02548-2. Epub 2023 Feb 11.

Shi H, Yin Z, Koronyo Y, Fuchs DT, Sheyn J, Davis MR, Wilson JW, Margeta MA, Pitts KM, Koronyo-Hamaoui M, et al.

Acta Neuropathol Commun. 2022 Sep 8;10(1):136. doi: 10.1186/s40478-022-01439-z.

Shi H, Koronyo Y, Rentsendorj A, Regis GC, Sheyn J, Fuchs DT, Kramerov AA, Ljubimov AV, Dumitrascu OM, Koronyo-Hamaoui M, et al.

Acta Neuropathol. 2020 May;139(5):813-836. doi: 10.1007/s00401-020-02134-w. Epub 2020 Feb 10.

Du X, Koronyo Y, Mirzaei N, Yang C, Fuchs DT, Black KL, Koronyo-Hamaoui M, Gao L.

PNAS Nexus. 2022 Aug 19;1(4):pgac164. doi: 10.1093/pnasnexus/pgac164.

Contact the Koronyo-Hamaoui Lab
Cedars-Sinai Maxine Dunitz Neurosurgical Institute
127 S. San Vicente Blvd.
Advanced Health Science Pavilion, Sixth Floor, Suite A6212
Los Angeles, CA 90048