The Lahiri Laboratory is focused on developing novel therapeutic paradigms that improve neurocognitive function after acute brain and systemic diseases. Currently, the lab is supported by the National Institutes of Health, American Academy of Neurology and F. Widjaja Foundation.
The Lahiri Laboratory is affiliated with the Cedars-Sinai Neurology Department, Neurosurgery Department and Department of Biomedical Sciences.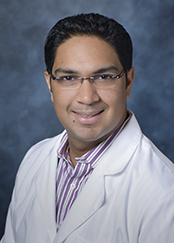 Personal Statement
"I am a physician-scientist and critical care neurologist at Cedars-Sinai. My overall approach to research is to use animal models to test hypotheses generated from clinical observations at the bedside. This approach allows identification of disease mechanisms and testing treatments that can be rapidly translated to the clinical environment to improve patient-centered outcomes. These research insights inform clinical practice and enable the delivery of leading-edge and, often, lifesaving patient care."
---
Shouri Lahiri, MD
Research from the Lahiri Laboratory has shown that common acute systemic conditions can contribute to cognition-relevant neurological injury, including delirium and accelerated Alzheimer's disease, which may be reversible with immune-modulating treatments.
Meet Our Team
---
Learn about the critical care neurology investigators in the Lahiri Laboratory who research neurological function and cognition to find discoveries that lead to treatments for patients.
Guidry G, Sparrow NA, Marshall HS, De Souza Santos R, Bharath SP, Gezalian MM, Pisarska MD, Vit JP, Kelly SA, Karumanchi SA, Lahiri S.
Sci Rep. 2022 Nov 15;12(1):19622.
Sparrow NA, Guidry G, Anwar F, Darwish S, Kelly SA, Karumanchi SA, Lahiri S.
Front Med (Lausanne). 2022 Nov 4;9:987202.
Rashid MH, Sparrow NA, Anwar F, Guidry G, Covarrubias AE, Pang H, Bogguri C, Karumanchi SA, Lahiri S.

J Neuroinflammation. 2021 Oct 28;18(1):247.
Sparrow NA, Anwar F, Covarrubias AE, Rajput PS, Rashid MH, Nisson PL, Gezalian MM, Toossi S, Ayodele MO, Karumanchi SA, Ely EW, Lahiri S.
Am J Respir Cell Mol Biol. 2021 Oct;65(4):403-412. 
Contact the Lahiri Lab
127 S. San Vicente Blvd.
Pavilion, Room 8112
Los Angeles, CA 90048