Lab Members
Erin Armentrout, PhD
Postdoctoral Scientist
Erin Armentrout, PhD, received her doctorate in molecular biology and microbiology in the lab of Arne Rietsch, PhD, at Case Western Reserve University in Cleveland, Ohio. Dr. Armentrout worked with Pseudomonas aeruginosa, a human pathogen commonly found in hospital-acquired infections. Specifically, her thesis focused on how the type III secretion system of Pseudomonas aeruginosa senses host-cell contact, which is a crucial step for evading the immune system and promoting survival of the pathogen. Currently, her work is focused on developing a vaccine for staphylococcus aureus.
Brian Larkin
Research Associate I
Brian Larkin graduated from Oberlin College with a bachelor of arts in neuroscience. As an undergraduate, he worked in Gunnar Kwakye's Lab studying neurotoxicology. He focused on elucidating pathogenic gene x environment interactions between genetic risk factors and Multiple System Atrophy (MSA), with environmental pesticides and metals such as endosulfan and iron. Currently, in the Martins Lab he is managing the mouse colony used for research purposes and assisting in lab maintenance and with a variety of experiments.
Samantha Nadeau
Graduate Student
Samantha Nadeau graduated from the University of California, San Diego with a bachelor of science in physiology and neuroscience. As an undergraduate, she worked in the Hampton Lab where she studied components of endoplasmic-reticulum (ER)-associated protein degradation in Saccharomyces cerevisiae, focusing on substrate-induced ER stress and phenotype suppression analysis. She is currently investigating the mechanisms of Blimp-1 regulation in T cells.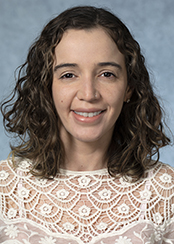 Jessica Santos, PhD
Postdoctoral Scientist
Jessica Santos, PhD, received her doctorate in basic and applied immunology from the University of Sao Paulo in Ribeirao Preto, Sao Paulo, Brazil. Santos' PhD thesis focused on neuroinflammatory and behavioral changes associated with cancer in experimental mice models, and included a one-year extended rotation in the laboratory of Leah Pyter, MD, (Institute for Behavioral Medicine Research, Departments of Psychiatry and Behavioral Health and Neuroscience, Ohio State University Medical Center). Jessica's current work in the Martins Lab investigates effector and regulatory pathways regulated by Blimp-1 in intraepithelial lymphocytes.
Alumni
---
Marina Broz, PhD, Candidate Rotating Student
Current Position: PhD Candidate,

Cedars-Sinai



Chihiro Ogawa, PhD, Postdoctoral Scientist
Current Position: Research Scientist, RIKEN Institute, Japan
Nargess Kiabi, PhD, Postdoctoral Fellow
Current Position: Scientist, Xencor
Jacqueline Ngo, Research Intern
Current Position: Medical Student, UCLA
Truc Nguyen, Research Associate I
Current Position: Oncology Pharmacist at Catholic Health Initiatives
Michael Couse, Research Associate I
Current Position: Psychiatry Resident at Olive View–UCLA Medical Center
Rashmi Bankoti, PhD, Postdoctoral Fellow
Current Position: Scientist, Dorian Therapeutics
Soofia Salehi, MD, Research Associate I
Current Position: Hospitalist, Multicare Deaconess Hospital, Spokane
Contact the Martins Lab
110 N. George Burns Road
Davis Building, Room 4094C
Los Angeles, CA 90048