The primary goal of the Artificial Intelligence Innovation Laboratory (A2I) is to understand human health as a complex adaptive system so that we can improve the prediction, diagnosis, prevention and treatment of common diseases such as Alzheimer's, cancer and cardiovascular disease. We take a computational approach focused on the development, evaluation and application of innovative AI, machine learning and systems approaches to modeling biomedical big data for precision health. We are particularly interested in AI methods that are accessible, explainable, fair, open, transparent and unbiased. Recent work has focused on automated machine learning (AutoML) methods which are able to bring this challenging technology to nonexperts. Our tree-based pipeline optimization tool (TPOT) algorithm and software was one of the first AutoML methods.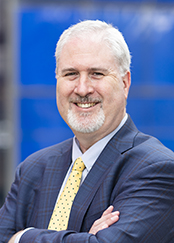 Personal Statement
I believe that creativity is the fuel that drives scientific discovery. As such, we value and promote diversity, equity, inclusion, collaboration and transparency in the laboratory. This culture facilitates the creation of cutting-edge new algorithms for solving the most challenging problems in biomedical research and healthcare.
---
Jason H. Moore, PhD
Breakthrough Research Areas
Our A2I laboratory has been a pioneer in the development, evaluation and application of automated machine-learning methods for biomedical data analysis. For example, our TPOT algorithm and open-source software automatically builds an entire machine-learning pipeline with algorithms for feature selection, feature engineering, feature transformation and machine learning. This takes the guesswork out of machine learning—making this important technology accessible to more users.
Meet Our Team
---
Our collaborative team includes biologists, computer scientists, data scientists, engineers, mathematicians and statisticians.
Bioinformatics. 2020 Jan 1;36(1):250-256.
Li R, Chen Y, Ritchie MD, Moore JH.
Nat Rev Genet. 2020 Aug;21(8):493-502.
La Cava W, Williams H, Fu W, Vitale S, Srivatsan D, Moore JH.
Bioinformatics. 2021 Apr 19;37(2):250-256.
Li R, Duan R, Zhang X, Lumley T, Pendergrass S, Bauer C, Hakonarson H, Carrell DS, Smoller JW, Wei WQ, et al.
Nat Commun. 2021 Jan 8;12(1):168.
Contact the Moore Lab
Pacific Design Center
700 N. San Vicente Blvd., Suite G540
West Hollywood, CA 90069