The Noval Rivas Laboratory led by Magali Noval Rivas, PhD, works to understand how the intestinal microbiome and the mucosal immune responses influence the severity of Kawasaki disease. The microbiome refers to the bacteria, viruses and fungi present in the gastrointestinal tract and their interactions with genes and the immune system. Noval Rivas has demonstrated that murine Kawasaki disease vasculitis is associated with intestinal barrier dysfunction and dysregulated mucosal immune responses. The Noval Rivas Lab investigates how the microbiome contributes to this vascular inflammation. Additionally, the lab researches how interactions between the microbiome and immune cells contribute to oral tolerance breakdown and food allergy development. 

The Noval Rivas Laboratory is affiliated with the Infectious and Immunologic Diseases Research Center, Department of Biomedical Sciences and Pediatrics Department.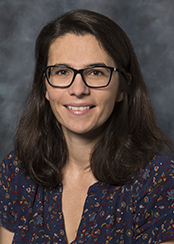 Personal Statement
"As a cellular and molecular immunologist, my focus has been to understand how microbes and the host immune system interact with each other during health and disease. My investigations on the cellular and molecular mechanisms involved in oral tolerance breakdown and food allergy development has led to several breakthroughs, revealing a fundamental and pathological mechanism of regulatory T cells reprograming into a Th2-like phenotype and has evidenced intestinal microbiota dysbiosis associated with food allergy development."
---
MAGALI NOVAL RIVAS, PHD
Kawasaki Disease Vasculitis 
Intestinal Permeability and Microbiome in Kawasaki Disease
Single-Cell Transcriptional Profiling of Murine Abdominal Aorta Aneurysms
Autophagy and Mitophagy in Murine Kawasaki Disease Vasculitis 
Intestinal Microbiota Signatures and Immune Responses Underlying Oral Tolerance Breakdown During Food Allergy
Meet Our Team
---
Learn more about the scientists, faculty members, investigators and other healthcare professionals of the Noval Rivas Laboratory, whose dedicated efforts lead to groundbreaking discoveries.
Nat Rev Rheumatol. 2020 Jul;16(7):391-405.
Porritt R, Markman J, Maruyama D, Kocatürk B, Chen S, Lehman T, Lee Y, Fishbein M, Noval Rivas M, Arditi M. 
Arterioscler Thromb Vasc Biol. 2020 Mar;40(3):802-818.
Noval Rivas M, Wakita D, Franklin MK, Carvalho TT, Abolhesn A, Gomez AC, Fishbein MC, Chen S, Lehman TJ, Sato K, Shibuya A, Fasano A, Kiyono H, Abe M, Tatsumoto N, Yamashita M, Crother TR, Shimada K, Arditi M.
Immunity. 2019 Sep 17;51(3):508-521.e6.
Noval Rivas M, Burton OT, Wise P, Charbonnier LM, Georgiev P, Oettgen HC, Rachid R, Chatila TA.
Immunity. 2015 Mar 17;42(3):512-523.
Contact the Noval Rivas Lab
8700 Beverly Blvd.
Davis, Room D4025
Los Angeles, CA 90048