The long-term research goals of the Panopoulos Laboratory are to harness the power of stem cells to provide innovative and clinically relevant advances in targeted cancer therapeutics and regenerative medicine. Our work focuses on utilizing human somatic cell reprogramming to identify and target novel embryonic mechanisms that are exploited in cancer, and as an avenue to discover fundamental aspects of normal and aberrant hematopoietic development.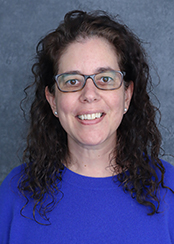 Personal Statement
My research training in stem cell biology/reprogramming, hematopoiesis and oncogenesis provides the foundation for the central questions of my laboratory. We pursue fundamental and clinically relevant research questions that are at the intersection of these fields."
---
Athanasia Panopoulos
Identification of novel embryonic mechanisms utilized by aggressive cancer cells.
Development of nanotechnology-based approaches to target embryonic mechanisms in aggressive cancers.
Combining reprogramming with genomics analysis to identify novel mechanisms regulating normal human blood cell development.
Development of human leukemia models using reprogramming.
Lager TW, Conner C, Keating CR, Warshaw JN, Panopoulos AD.
Oncogene. 2021 Jun;40(23):4050-4059.
Conner C, Lager TW, Guldner IH, Wu MZ, Hishida Y, Hishida T, Ruiz S, Yamasaki AE, Gilson RC, Panopoulos AD, et al.
Sci Rep. 2020 Feb;10(1):3474.
Yamasaki AE, Warshaw JN, Kyalwazi BL, Matsui H, Jepsen K, Panopoulos AD.
Stem Cell Res. 2020 Dec;49:102096.
Panopoulos AD*, Smith EN*, Shepard PJ, Arias A, Modesto V, Diffenderfer K, Hishida Y, Rao F, Biggs W, Sandoval E, et al.
Cell Stem Cell. 2017 Apr; 20(4):505-517.
Contact the Panopoulos Lab
127 S. San Vicente Blvd.
Pavilion, Suite A8304
Los Angeles, CA 90048