The Sareen Laboratory uses stem cells (iPSCs) to model diseases and explore tomorrow's therapeutics. By differentiating stem cells into mature cells such as neurons, gastric and pancreatic organoids, pancreatic endocrine and exocrine cells, we study the cellular signaling that underlies some of today's most intractable diseases, including diabetes, pancreatitis, neurological diseases like amyotrophic lateral sclerosis (ALS) and COVID-19 (coronavirus). Using gene editing, bioprinting and other emerging tools, we seek to correct defects in a dish and then bring those treatments to patients through process development and translational activities being performed in the cGMP labs of the Cedars-Sinai Biomanufacturing Center, which is also directed by Dr. Sareen.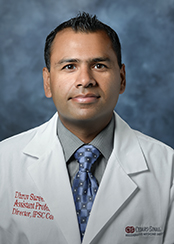 I have extensive experience with human induced pluripotent stem cells (iPSC)-based disease models, cell signaling, mechanistic drug discovery, process development of early research discoveries, and optimizing cGMP-compatible stem cell therapies. My lab has published papers using human iPSC-based models to study neurological diseases, pancreatic diseases and COVID-19."
---
Dhruv Sareen, PhD
Replacing the beta cells lost in Type I diabetes is a long-sought goal of regenerative medicine. The Sareen Laboratory uses the latest methods in cell fate guidance, assessment and clinical translation in its efforts to make this a reality.
Meet Our Team
---
Learn more about the scientists, faculty members, investigators and other healthcare professionals of the Sareen Laboratory, whose dedicated efforts lead to groundbreaking discoveries.
Rajamani U, Gross AR, Hjelm BE, Sequeira A, Vawter MP, Tang J, Gangalapudi V, Wang Y, Andres AM, Gottlieb RA, Sareen D. 
Cell Stem Cell. 2018 May 3;22(5):698-712.
Sances S, Ho R, Vatine G, West D, Laperle A, Myeyr A, Godoy M, Kay PS, Mandefro B, Hatata S, Hinojosa C, Wen N, Sareen D, et al.
Stem Cell Reports. 2018 Apr 10;10(4):1222-1236.
Keenan AB, Jenkins SL, Jagodnik KM, Koplev S, He E, Torre D, Wang Z, Dohlman AB, Silverstein MC, […], Sareen D, et al.
Cell Syst. 2018 Jan 24;6(1)13-24.