The primary focus of the Seki Laboratory is to understand the role of innate immune and inflammatory signals in chronic liver diseases such as liver fibrosis, alcoholic and nonalcoholic steatohepatitis and hepatocellular carcinoma. In particular, our laboratory is interested in studying the interplay between hepatocytes and non-parenchymal cells (Kupffer cells and hepatic stellate cells) in chronic liver disease. Our research goal is to discover new mechanisms of and novel therapeutic targets for chronic liver disease.
The Seki Laboratory is affiliated with the Digestive Diseases Center and the Department of Medicine.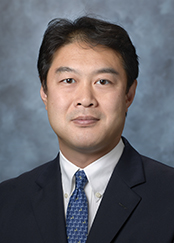 Dr. Seki's early research career focused on the study of Toll-like receptors in Kupffer cells. He then combined his immunology research background with the study of chronic liver diseases, including liver fibrosis, alcohol-associated liver disease (ALD), and nonalcoholic fatty liver disease (NAFLD).
---
Ekihiro Seki, MD, PhD
Our research team has reported that Toll-like receptors and intestine-derived bacterial products promote liver fibrosis and fatty liver disease (Seki, et al. Nat Med. 2007). More recently, we determined that hyaluronan (HA), a biomarker for liver cirrhosis, is the cause and can be a therapeutic target for liver fibrosis (Yang, et al. Sci Transl Med. 2019).
Meet Our Team
---
Learn more about the scientists, faculty members, investigators and other healthcare professionals of the Seki Laboratory, whose dedicated efforts lead to groundbreaking discoveries.
Wang Q, Kim SY, Matsushita H, Wang Z, Pandyarajan V, Matsuda M, Ohashi K, Tsuchiya T, Roh YS, Kiani C, Zhao Y, Chan M, Devkota S, Lu SC, Hayashi T, Carson DA, Seki E. 
Proc Natl Acad Sci U S A. 2021 Jan 5;118(1):e2020868118.
Yang YM, Noureddin M, Liu C, Ohashi K, Kim SY, Ramnath D, Powell EE, Sweet MJ, Roh YS, Hsin IF, Deng N, Liu Z, Liang J, Mena E, Shouhed D, Schwabe RF, Jiang D, Lu SC, Noble PW, Seki E.
Sci Transl Med. 2019;11(496). pii: eaat9284.
Ohashi K, Wang Z, Yang YM, Billet S, Tu W, Pimienta M, Cassel SL, Pandol SJ, Lu SC, Sutterwala FS, Bhowmick N, Seki E. 
Hepatology. 2019;70(5):1582-1599.
Liang S, Zhong Z, Kim SY, Uchiyama R, Roh YS, Matsushita H, Gottlieb RA, Seki E.
J Biol Chem. 2019;294(33):12359-12369.
Contact the Seki Lab
8700 Beverly Blvd.
Davis Building, Rooms 2099, 2029
Los Angeles, CA 90048