Lab Members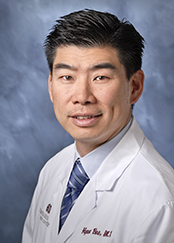 Hyun W. Bae, MD
Principal Clinical Partner
Bae has a BS in biomechanics from Columbia University School of Engineering and Applied Sciences and an MD, cum laude, from Yale University School of Medicine. Research areas are cells, growth factors and materials for engineering of spinal tissues, intervertebral disc and instrumentation design for artificial disc replacement.

Melissa Chavez
Research Associate I
Melissa Chavez is receiving her bachelor of science degree in biochemistry and biology from California State University, San Bernardino (CSUSB), and is currently enrolled in CIRM. Her previous undergraduate research studies involve the effects of traumatic brain injury on neural tissue in D. melanogaster. In the Sheyn Lab, she is currently studying the effect of the immune system on xenotransplantation of human stem cells to IVD.
Patricia Del Rio
CIRM Research Intern
Patricia Del Rio is a CIRM scholar and master's student in biotechnology at California State University, Channel Islands (CI). Her previous research experience was assessing the roles of unknown proteins in Legionella pneumophila. She is currently working on regeneration of tendon following injury using 3D scaffolds and translational stem cells.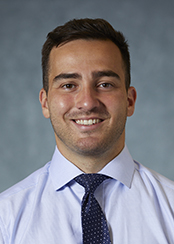 Ryan Finkel, MD
Orthopaedic Resident, PGY-5
Finkel obtained his undergraduate degree in public health at Johns Hopkins and his MD degree at NYMC, where he took part in research of multimodal pain regiments surrounding total joint arthroplasty. In the Sheyn Lab, he is involved in multiple projects focusing on intervertebral disc degeneration.
Wensen Jiang, PhD
Postdoctoral Scientist
Jiang is a California Institute for Regenerative Medicine scholar and an expert in biomaterials, tissue engineering and cell-based therapies for musculoskeletal disorders and degenerative diseases. His research informs new cell-based strategies for treating intervertebral disc degeneration and back pain. Accolades include: New Investigator Recognition Award by the Orthopaedic Research Society.

Giselle Kaneda, BS
Research Associate II
Giselle received her bachelor's in kinesiology with a minor in biology from Occidental College. During her time as an athlete, she became interested in applying regenerative therapies for sports injuries. She is currently involved in a variety of projects including tendon regeneration, lower back pain modeling and intervertebral disc rejuvenation.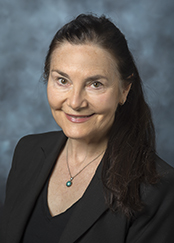 Linda (Lea) Kanim, MA
Statistician and Research Specialist
Linda "Lea" Kanim is a statistician with more than 25 years of research experience in translational and clinical trial studies for spinal tissue engineering. She has strong expertise in designing and performing various spinal surgical procedures in animal models that mimic those performed in human surgery. These models are used to further investigate healing after fusion and fracture repair, and to study demineralized bone matrix-based grafting materials, cell-based grafting, biomaterials and molecules for tissue engineering of disc and bone cell biology.
Evan D. Nigh, MD
Orthopaedic Resident, PGY-2
Nigh obtained his undergraduate degree in biochemistry at Claremont McKenna College, where his senior thesis investigated gene therapies against HIV. He attended medical school at the University of Miami Miller School of Medicine, and in the Sheyn Lab his focus is on effective bone regeneration using stem cells.

Julia Sheyn
Research Associate III
Julia Sheyn received a bachelor of science in pharmacy degree at HUJI. Julia joined the Koronyo Lab, where she worked on Alzheimer's disease neuropathological assessments and therapies in transgenic mouse models. Currently in the Sheyn Lab, she is involved in projects involving reducing pain and neuronal damage after spine traumatic injury and developing new treatments of osteoarthritis utilizing bioinformatics.
Thomas Spaeter
Postdoctoral Scientist
Thomas Spaeter finished his doctoral degree at the Institute of Clinical Experimental Surgery, Saarland University in Homburg, Germany. He developed a novel pre-vascularization strategy for tissue implants by seeding them with so-called adipose tissue-derived microvascular fragments (MVF)—biologically intact units of a microvasculature which can easily be isolated from adipose tissue.

Yuanzhang Tang, PhD
Postdoctoral Scientist
Tang, a skilled pain surgeon in the field of minimally invasive medicine, holds a clinical medical doctoral degree from Capital Medical University in China. His current research focuses primarily on developing biomaterials-encapsulated cell therapies for the treatment of musculoskeletal diseases, such as intervertebral disc degeneration (IDD) and osteoarthritis (OA).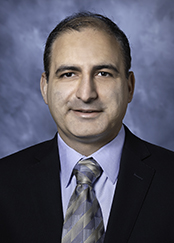 Wafa Tawackoli, PhD
Assistant Professor, Technical Director of the Research Imaging Core Facility, Associate Director of Biomedical Imaging Graduate Program
Wafa Tawackoli, PhD, is assistant professor in the Department of Surgery, technical director of the Research Imaging Core Facility, and associate director of the new Biomedical Imaging Graduate Program. His research focus includes imaging stem cell-based skeletal tissue engineering and regenerative medicine.
Jacob Wechsler
Research Associate I
Jacob Wechsler received his bachelor of science degree in biology from UCLA. In the Sheyn Lab, he is focused on projects related to development of biomaterials for stem cell delivery. Jacob grew interested in the field because of his own sports injury history and is passionate about the employment of stem cells as a potential treatment method.
Victoria Yu
Research Associate II
Victoria Yu is a fourth-year undergraduate student at Johns Hopkins University in the biomedical engineering program with a translational cell and tissue engineering focus. In the Sheyn Lab, Yu is assisting in tendon tissue engineering in vitro projects with molecular biology techniques and cell culture. She hopes to pursue graduate studies in regenerative medicine and tissue engineering in the future.
---
Alumni Lab Members
Chloe Marie Castaneda
Lab Title: Research Intern
Currently: Clinical Research Coordinator
Julie L. Chan, MD, PhD
Lab Title: Neurosurgery Resident
Currently: Neurosurgery Resident
Angeliki (Angela) Papalamprou, PhD
Lab Title: Postdoctoral Scientist
Currently: Scientist at a bioengineering company
Angel Chen
Lab Title: Research Intern
Currently: Clinical Research Coordinator
Xianchao Bao, MD, 2021
Lab Title: Visiting Graduate Student
Currently:

Orthopaedic Resident

Derek Ju, MD, 2020
Lab Title: Orthopaedic Resident
Currently:

Fellow in Spine, Thomas Jefferson University

Tina Stefanovic, BA, 2020
Lab Title: Research Intern, Research Associate I
Currently:

Graduate Student,

Point Loma Nazarene University
Virginia Chan, BA, 2018
Lab Title: Research Intern
Currently

: Medical Student, Georgetown University

Anita Anand, 2018
Lab Title: Minor in Research
Currently: 

Harvard-Westlake High School

Yasaman (Jasmin) Arabi, BA, 2019
Lab Title: Research Associate I
Currently:

Master's Student, Georgetown University

Zachary NaPier, MD, 2019
Lab Title: Orthopaedic Resident
Currently:

Fellow in Spine, Harvard University

Zhanna Khnkoyan, BA, 2019
Lab Title: Research Intern
Currently:

Premed

Kelly Ha, 2019
Lab Title: Minor in Research, SPARK Program
Currently

: High School

Alfonso Gonzales, 2019
Lab Title: Research Intern
Currently: Undergrad Student,

Whittier College

Victoria Yu, 2019
Lab Title: Research Intern
Currently: Bioengineering Student,

Johns Hopkins University

Juliane Glaeser, PhD
Lab Title: Program Manager, Instructor of Research
Currently: Director of Translational and Collaborative Research Programs, Department of Stem Cell Biology and Regenerative Medicine, USC
Khosrowdad (Koz) Salehi, BS
Lab Title: Research Associate III and Laboratory Manager
Currently: Senior Research Associate II, Kite Pharma
Phillip Behrens IV, MD
Lab Title: Orthopaedic Resident, PGY-5
Currently: Spine Surgeon, Private practice
Stephen R. Stephan, MD
Lab Title: Orthopaedic Resident, PGY-4
Currently: Spine Fellowship, Columbia University, New York
Christopher Johnson, MD
Lab Title: Orthopaedic Resident, PGY-4
Currently: Spine Fellowship, Stanford, California
Contact the Sheyn Lab
127 S. San Vicente Blvd.
Advanced Health Sciences Pavilion, A8308
Los Angeles, CA 90048