Lab Members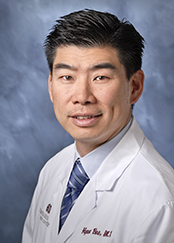 Hyun W. Bae, MD
Principal Clinical Partner
Hyun W. Bae, MD, is the medical director of Spine Education and clinical professor of Surgery and Orthopaedics at Cedars-Sinai. He is a national leader in minimally invasive surgery, motion preservation technology, artificial disc replacement and nonfusion technologies. As a leading researcher in stem cell repair of degenerative disc disease and the use of growth factors to treat spinal cord injury, Bae has been published extensively in top journals and has presented at many national and international meetings. He was among the first to use growth factor tissue engineering for intervertebral discs, multilevel artificial disc replacement for both the lumbar and cervical spine, and other novel medical devices for dynamic stabilization and minimally invasive spine surgery. Bae earned a bachelor's degree in biomechanics from the Columbia University School of Engineering and Applied Sciences. He then went on to earn his medical degree, cum laude, at Yale University School of Medicine. His research interest is on the regulation of inflammatory and catabolic proteins in human intervertebral disc cells and tissues with and without mechanical stimulation. In addition, Bae is testing potential biological treatments for a reduction of inflammatory and catabolic processes in vitro and in vivo.
Chloe Marie Castaneda
Research Associate I
Angel Chen is a fourth-year undergraduate psychobiology student at the University of California, Los Angeles. She is currently assisting the Sheyn Lab with cell culture and nucleofections while learning more about translational research regarding stem cell therapies. Chen is passionate about the employment of induced pluripotent stem cells for bone and soft tissue regeneration and striving to pursue a career in medicine.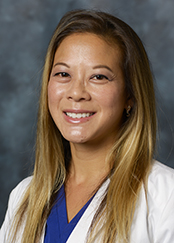 Julie L. Chan, MD, PhD
Neurosurgery Resident, PGY-5
Julie L. Chan, MD, PhD, is a fifth-year resident in the Neurosurgery Residency Program at Cedars-Sinai. She received her bachelor of science degree in neurobiology at the University of California, Irvine (UCI), where she worked under Frank M. LaFerla, PhD, studying the pathophysiological mechanisms underlying neurodegenerative disease as an undergraduate and research technician. She completed her combined degree at the Medical College of Virginia, Virginia Commonwealth University. Under the direction of Linda L. Phillips, PhD, Chan successfully translated a model of traumatic brain injury (TBI) to transgenic mice in support of her thesis investigating the neuroplasticity of MMPs and cytokines following TBI. Chan is proficient in multiple molecular techniques, confocal microscopy, in vivo rodent models and behavioral analysis. Following residency, she intends to enter a PGY-8 spine fellowship and a career in academic neurosurgery to pursue spine outcomes research. Chan is currently determining the molecular players that influence low back pain and is interested in translating stem cell treatments into in vivo models.
Melissa Chavez
CIRM Research Intern
Melissa Chavez is receiving her bachelor of science degree in biochemistry and biology from California State University, San Bernardino (CSUSB), and is currently enrolled in CIRM. Her previous undergraduate research studies involve the effects of traumatic brain injury on neural tissue in D. melanogaster. In the Sheyn Lab, she is currently studying the effect of the immune system on xenotransplantation of human stem cells to IVD.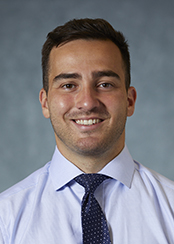 Ryan Finkel, MD
Orthopaedic Resident, PGY-5
Finkel obtained his undergraduate degree in public health at Johns Hopkins and his MD degree at NYMC, where he took part in research of multimodal pain regiments surrounding total joint arthroplasty. In the Sheyn Lab, he is involved in multiple projects focusing on intervertebral disc degeneration.
Wensen Jiang, PhD
Postdoctoral Scientist
Wensen Jiang, PhD, is a biomaterials scientist with extensive experience in biomaterials and cell-materials interactions for various biomedical, pharmaceutical and translational applications. In his earlier research, Jiang demonstrated various efficient approaches to enhance the regenerative potential of bioresorbable materials. Such strategies include using novel compositional designs, surface modifications and nanofabrications to reduce the toxicity of biomaterials and improve cell-materials interactions. His recent work mainly investigates biomaterials-enabled minimally invasive cell therapies for tissue regenerations. His applied researches at the intersection of materials science and biomedicine aim to accelerate the clinical translations of biomaterials-based new treatments in minimally invasive and patient-specific cell therapies and regenerative medicine. Jiang has also continuously encouraged younger students to engage in science. He mentored eight undergraduate students and one master's student by far. His mentorship on young scientists was sponsored by NSF MacREU program and the Department of Education Summer Bridge Program.
Giselle Kaneda, BS
Research Associate II
Giselle Kaneda received her bachelor's degree in kinesiology with a minor in biology at Occidental College. As a former member of both the Junior and Senior U.S. National Karate Team, she represented the U.S. at multiple world and continental championships and was ranked 24th in the world in her division. During her time as an athlete, she developed an interest in the application of regenerative and stem cell therapies as a treatment for sports injuries. Since retiring from competition, she worked on an assortment of projects ranging from the use of amniotic allograph to treat arthritis pain to developing an alternate therapy for Parkinson's disease using a rat model. She is currently assisting in multiple projects of the Sheyn Lab in cell culture, platelet rich plasma (PRP) analysis, differentiation assay and rat handling. In the future, she plans on pursuing a PhD in regenerative medicine and translational medicine with a focus on stem cell therapies.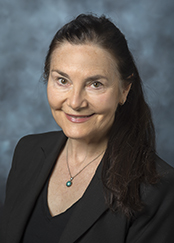 Linda (Lea) Kanim, MA
Statistician and Research Specialist
Linda "Lea" Kanim is a statistician with more than 25 years of research experience in translational and clinical trial studies for spinal tissue engineering. She has strong expertise in designing and performing various spinal surgical procedures in animal models that mimic those performed in human surgery. These models are used to further investigate healing after fusion and fracture repair, and to study demineralized bone matrix-based grafting materials, cell-based grafting, biomaterials and molecules for tissue engineering of disc and bone cell biology.
Evan D. Nigh, MD
Orthopaedic Resident, PGY-2
Evan Nigh, MD, is a second-year orthopaedic surgery resident at Cedars-Sinai. He was raised in Billings, Montana, and obtained his undergraduate degree in biochemistry at Claremont McKenna College where his senior thesis investigated gene therapies against HIV. During medical school at the University of Miami Miller School of Medicine, Nigh joined the Interdisciplinary Stem Cell Institute and studied the effect of stem cells on ischemic cardiac disease. He is interested in translational research in regenerative medicine and reconstructive orthopaedic surgery. Nigh is currently involved in basic science projects in the Sheyn Lab focused on effective bone regeneration using stem cells.
Angeliki (Angela) Papalamprou, PhD
Postdoctoral Scientist
Angeliki (Angela) Papalamprou, PhD, is a biomedical scientist with an extensive background in regenerative medicine, stem cells and tissue engineering research, including identification of cardiac stem/progenitor cells and hematopoietic and mesenchymal stem cells (MSCs) in vitro and in vivo. During her doctoral studies, she developed a patented method for producing cardiac extracellular matrix scaffolds from rat hearts based on protein chemistry and cardiac molecular physiology principles, which was successfully repopulated with both human and mouse MSCs and implanted into a mouse model that was not immuno-compromised. For her doctoral work, Papalamprou received the American Heart Association Women Scientist Advisors Predoctoral Fellowship and the Howard Hughes Medical Institute Integrating Medicine Into Basic Science Fellowship. She has experience in preclinical drug development at the Non-Translational Sciences Toxicology department at Allergan plc, working alongside the tissue materials sciences, ophthalmology and neuroscience groups, where she received an award for excellence for method development and advanced data analysis of preconcept studies.
Julia Sheyn
Research Associate III
Julia Sheyn received a bachelor of science in pharmacy degree at HUJI. Julia joined the Koronyo Lab, where she worked on Alzheimer's disease neuropathological assessments and therapies in transgenic mouse models. Currently in the Sheyn Lab, she is involved in projects involving reducing pain and neuronal damage after spine traumatic injury and developing new treatments of osteoarthritis utilizing bioinformatics.
Thomas Spaeter
Postdoctoral Scientist
Thomas Spaeter finished his doctoral degree at the Institute of Clinical Experimental Surgery, Saarland University in Homburg, Germany. He developed a novel pre-vascularization strategy for tissue implants by seeding them with so-called adipose tissue-derived microvascular fragments (MVF)—biologically intact units of a microvasculature which can easily be isolated from adipose tissue.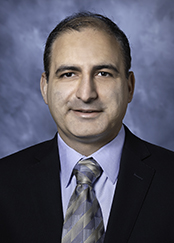 Wafa Tawackoli, PhD
Assistant Professor, Technical Director of the Research Imaging Core Facility, Associate Director of Biomedical Imaging Graduate Program
Wafa Tawackoli, PhD, is assistant professor in the Department of Surgery, technical director of the Research Imaging Core Facility, and associate director of the new Biomedical Imaging Graduate Program. His research focus includes imaging stem cell-based skeletal tissue engineering and regenerative medicine.
Jacob Wechsler
Research Intern
Jacob Wechsler received his bachelor of science degree in biology from UCLA. In the Sheyn Lab, he is focused on projects related to development of biomaterials for stem cell delivery. Jacob grew interested in the field because of his own sports injury history and is passionate about the employment of stem cells as a potential treatment method.
Victoria Yu
Research Associate I
Victoria Yu is a fourth-year undergraduate student at Johns Hopkins University in the biomedical engineering program with a translational cell and tissue engineering focus. In the Sheyn Lab, Yu is assisting in tendon tissue engineering in vitro projects with molecular biology techniques and cell culture. She hopes to pursue graduate studies in regenerative medicine and tissue engineering in the future.
---
Alumni Lab Members
Angel Chen
Lab Title: Research Intern
Currently: Clinical Research Coordinator
Xianchao Bao, MD, 2021
Lab Title: Visiting Graduate Student
Currently:

Orthopaedic Resident

Derek Ju, MD, 2020
Lab Title: Orthopaedic Resident
Currently:

Fellow in Spine, Thomas Jefferson University

Tina Stefanovic, BA, 2020
Lab Title: Research Intern, Research Associate I
Currently:

Graduate Student,

Point Loma Nazarene University
Virginia Chan, BA, 2018
Lab Title: Research Intern
Currently

: Medical Student, Georgetown University

Anita Anand, 2018
Lab Title: Minor in Research
Currently: 

Harvard-Westlake High School

Yasaman (Jasmin) Arabi, BA, 2019
Lab Title: Research Associate I
Currently:

Master's Student, Georgetown University

Zachary NaPier, MD, 2019
Lab Title: Orthopaedic Resident
Currently:

Fellow in Spine, Harvard University

Zhanna Khnkoyan, BA, 2019
Lab Title: Research Intern
Currently:

Premed

Kelly Ha, 2019
Lab Title: Minor in Research, SPARK Program
Currently

: High School

Alfonso Gonzales, 2019
Lab Title: Research Intern
Currently: Undergrad Student,

Whittier College

Victoria Yu, 2019
Lab Title: Research Intern
Currently: Bioengineering Student,

Johns Hopkins University

Juliane Glaeser, PhD
Lab Title: Program Manager, Instructor of Research
Currently: Director of Translational and Collaborative Research Programs, Department of Stem Cell Biology and Regenerative Medicine, USC
Khosrowdad (Koz) Salehi, BS
Lab Title: Research Associate III and Laboratory Manager
Currently: Senior Research Associate II, Kite Pharma
Phillip Behrens IV, MD
Lab Title: Orthopaedic Resident, PGY-5
Currently: Spine Surgeon, Private practice
Stephen R. Stephan, MD
Lab Title: Orthopaedic Resident, PGY-4
Currently: Spine Fellowship, Columbia University, New York
Christopher Johnson, MD
Lab Title: Orthopaedic Resident, PGY-4
Currently: Spine Fellowship, Stanford, California
Contact the Sheyn Lab
127 S. San Vicente Blvd.
Advanced Health Sciences Pavilion, A8308
Los Angeles, CA 90048