Research conducted in the Sleight Lab focuses on behavioral interventions to improve quality of life for people with a history of cancer. The centerpiece of the Sleight Lab is the RISE (Reinvent, Integrate, Strengthen, Expand) clinic, an occupational therapy-based program designed to facilitate full participation in everyday activities after cancer. These activities often include returning to work, self-care, household management, leisure activities, spiritual practices and sleep. RISE sessions are individually tailored to help patients develop sustainable health self-management strategies for navigating cancer-related side effects (e.g., pain, fatigue, cognitive impairment) and setting practical, achievable goals. Commonly, RISE participants report improvements in self-efficacy and quality of life, as well as increased satisfaction in their ability to participate in valued everyday activities. The RISE clinic also specializes in health self-management training to increase adherence to health behavior recommendations for diet and physical activity after cancer.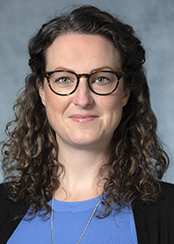 Personal Statement
My goal is to develop and implement holistic, occupation-based interventions to help people navigate the physical, cognitive, emotional and spiritual challenges commonly associated with surviving cancer. In particular, I am interested in how we can make these interventions practical, scalable and responsive to the unmet needs of diverse cancer survivors across a range of communities.
---
Alix Sleight, PhD
Breakthrough Research Areas
Title: RISE (Reinvent, Integrate, Strengthen, Expand): a personalized, occupational therapy-based self-management program to improve health behaviors in cancer survivors
Status of Support: Funded
Source of Support: American Occupational Therapy Foundation
Dates: 7/1/22–7/1/23
Name of PI: Alix Sleight
Meet Our Team
---
Learn more about the researchers of the Sleight Laboratory, whose dedicated efforts lead to groundbreaking discoveries.
Newman RM, Alfano CM, Radomski MV, Pergolotti M, Wolf TJ, Sleight AG, Bryant AL, Voelbel GT, de Moor JS, Nitkin R, Daniels E, Braveman B, Walker RK, Williams GR, Winters-Stone KM, Cheville AL, Campbell SE, Lawlor MC, King AA, Ness KK, Srivastava P, Lyons KD.
OTJR (Thorofare N J). 2019 Oct;39(4):189-196.
Pergolotti M, Battisti NML, Padgett L, Sleight AG, Abdallah M, Newman R, Van Dyk K, Covington KR, Williams GR, van den Bos F, Pollock Y, Salerno EA, Magnuson A, Gattás-Vernaglia IF, Ahles TA.
J Geriatr Oncol. 2020 Mar;11(2):237-243. 
Sleight AG, Boyd P, Klein WMP, Jensen RE.
Psychooncology. 2021 Jan;30(1):52-58.