Stehlik & Dorfleutner Lab
The collaborative Stehlik and Dorfleutner Laboratory of molecular innate immunology employs a team-based approach to the science of studying the mechanisms of innate immune responses in health and disease. Phagocytic immune cells (such as monocytes, macrophages and dendritic cells) encode cytosolic pattern recognition receptors (including Nod-like receptors, absent in melanoma 2-like receptors and pyrin) that sense danger signals and pathogens. Their activation leads to the assembly of the inflammasome complex, which is responsible for the processing and release of the pro-inflammatory cytokines interleukin (IL)-1β and IL-18, which in turn recruit and activate innate immune cells. While acute, localized and temporary inflammation is beneficial and contributes to pathogen clearance, wound healing and tissue repair, chronic and inappropriate inflammation is linked to tissue destruction and inflammatory and immune disease. Therefore, an important goal of our studies is to define strategies to limit these excessive and uncontrolled inflammatory responses to provide novel avenues for therapeutic intervention.
The Stehlik and Dorfleutner Laboratory is affiliated with the Cedars-Sinai Department of Pathology and Laboratory Medicine, Department of Biomedical Sciences and the Samuel Oschin Comprehensive Cancer Institute.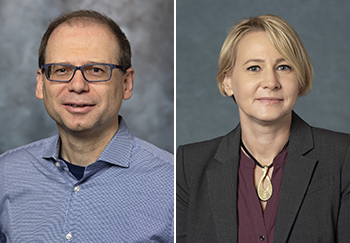 Personal Statement
"The Stehlik and Dorfleutner Laboratory utilizes leading-edge molecular, cellular and in vivo approaches for research in the field of molecular innate immunology with the goal to elucidate novel immune-regulatory mechanisms to advance our understanding of human immunity, and to identify novel targets for developing future therapies."
---
Discovery and functional characterization of the PYRIN domain-only protein family of human inflammasome inhibitors and their role in ameliorating inflammatory disease
Identification of the human NLRP7 inflammasome
Discovery of non-canonical inflammasome regulation
Tonic type I interferon-mediated maintenance of intestinal homeostasis and microbial diversity
Meet Our Team
---
Learn more about the scientists, faculty members, investigators and other healthcare professionals of the Stehlik and Dorfleutner Laboratory, whose dedicated efforts lead to groundbreaking discoveries.
Chu HL, Indramohan M, Ratsaimandresy RA, Gangopadhyay A, Morris EP, Monack DM, Dorfleutner A*, Stehlik C*.

Nat Commun. 2018 Mar 8;9(1):996.
de Almeida L, Khare S, Misharin AV, Patel R, Wallin M, Perlman HR, Greaves DR, Hoffman HM, Dorfleutner A*, Stehlik C*.

Immunity. 2015 Aug 18;43(2):264-276.
Khare S, Ratsimandresy RA, de Almeida L, Cuda CM, Rellick SL, Misharin AV, Wallin MC, Gangopadhyay A, Forte E, Gottwein E, Perlman H, Reed JC, Greaves DR, Dorfleutner A*, Stehlik C*.

Nat Immunol. 2014 Apr;15(4):343-353.
Khare S, Dorfleutner A, Bryan NB, Yun C, Radian AD, de Almeida L, Rojanasakul Y, Stehlik C.

Immunity. 2012 Mar 23;36(3):464-476.
Contact the Stehlik & Dorfleutner Lab
127 S. San Vicente Blvd.
Pavilion, Room A-8700
Los Angeles, CA 90048