Lab Members Jargalsaikhan Dagvadorj, PhD
Project Scientist
Jargalsaikhan Dagvadorj, PhD, received his doctorate in immunology and cellular biology from Aichi Medical University, Japan. His research focus is on innate immunity and in particular the role of LPS/TLR4 dependent intracellular signaling in Nlrp3 inflammasome activation and mitochondrial dysfunction. Dagvadorj's research in the Sutterwala and Cassel Lab is on the role of Nlrc4 inflammasome and exosomes in the tumor metastasis.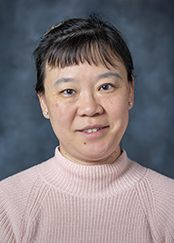 Jiamei Yu, MD, PhD
Lab Manager/Research Associate III
Jiamei Yu, MD, PhD, obtained her medical degree from Harbin Medical University in China in 1994 and her master's degree in medical genetics from the same university in 1997. Yu earned her doctorate in pathobiology from the Department of Pathology and Laboratory Medicine at the University of Southern California in 2004. With an extensive cancer genetics background and strong research interest in immuno-oncology, she joined the Sutterwala and Cassel Lab in 2017. She works as the lab manager performing both lab and team management. Yu is proficient in mouse colony management and provides administrative leadership and technical expertise, and she coordinates the day-to-day running of the lab. Hengameh Sadeghi, PhD
Postdoctoral Scientist
Hengameh Sadeghi, PhD, obtained her doctorate from Universität zu Lübeck, in Germany. She joined the Sutterwala and Cassel Laboratory in 2015. Her research focus is on understanding how inflammasomes regulate wound healing during bacterial infection.
Contact the Sutterwala & Cassel Lab
Advanced Health Sciences Pavilion, Room A9402
127 S. San Vicente Blvd.
Los Angeles, CA 90048