Research Areas
Director of the Cedars-Sinai Inflammatory Bowel and Immunobiology Research Institute (IBIRI), Stephan Targan, MD, and his colleagues focus on the genetic and immunopathologic mechanisms of inflammatory bowel disease (IBD). This integrated research philosophy, which combines multiple research disciplines of IBD and translates findings for therapeutic development, is a unique feature of the IBIRI laboratories under Targan's leadership.
Research in the Targan Laboratory has shown that a population of T regulatory cells (FOXP3+ Tregs), which secrete low levels of Tl1a, is participatory in amelioration of murine colitis in and contributes to the regulation DR3 dependent Treg suppressor function. These findings reveal novel relationships between Tl1a levels and T regulatory responses and provide new perspective on the pathogenesis of IBD.
In associated human translational work, the Targan Lab has shown that individuals with Crohn's disease who carry the risk single-nucleotide polymorphism and produce high TL1A have nonfunctional naïve Tregs. One mechanism that might lead to the loss of function in these Tregs is the preferential increase in expression of a nonfunctional Foxp3 splice variant on exposure to TL1A.
The Targan Laboratory is also investigating T cell subsets such as T follicular helper (Tfh)-like cells that are particularly aggressive in patients with certain gene variations. Understanding the essential regulatory mechanisms of highly aggressive T cells may suggest novel approaches for the management of the subsets of IBD patients in which inflammation is caused by these T cells.

Targan continues his exploration of the relationships between a set of serum autoantibodies and IBD. In addition to their utility in diagnosis, prognosis and treatment outcomes, combinations of these and other markers, along with genetic profiles, can predict disease natural history, response to treatments and potential need for surgery.
Targan has received numerous investigative grants from the National Institutes of Health (NIH), including an NIH Merit Award for his grant, NIDDK R37 DK043211 "IBD: Mucosa Specific Regulation of IFN-Gamma Production," and P01 DK046367 "IBD: Role of Genetic and Immunopathologic Mechanisms," a project-based collaboration spanning three decades. Several grants from the Crohn's and Colitis Foundation have also been awarded, as well as numerous research contracts with many industry sponsors.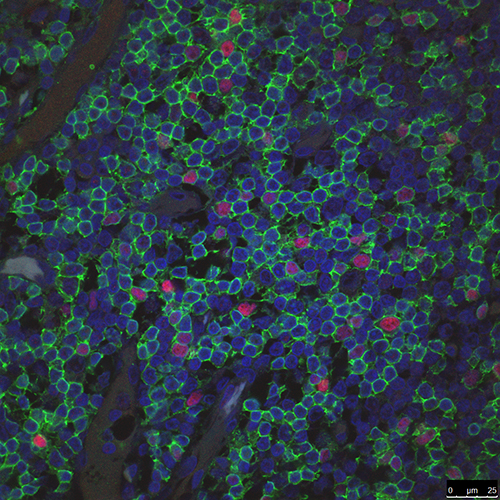 Increased numbers of Foxp3+ regulatory T cells that accumulate in the colonic tissue of Crohn's diseasepatients compared to colon sections taken from non-inflammatory bowel disease patients.
Contact the Targan Lab
110 N. George Burns Road
Davis Building, Room D4063
Los Angeles, CA 90048