Research in the Yu Laboratory is focused on immunotherapy for brain tumors, the cancer stem cell and its microenvironment in brain tumors, cancer stem cell–specific cytotoxic T lymphocytes, cancer stem cell signaling, the mechanism of cancer invasion, and targeted immunochemotherapy using nanotechnology.
The Yu Lab has developed dendritic cell-vaccine-based immunotherapy for brain tumors that has led to multi-institutional, randomized placebo-controlled clinical trials. The lab has also identified cancer stem cells in glioblastoma and benign tumors. Novel activated T-cell therapies for glioblastoma are being translated from the lab to the clinic. Additionally, the Yu Lab has identified stem cell genes and metabolic genes that are deleted and amplified in glioblastoma and is developing strategies to exploit these mechanisms for tumor therapy.
The Yu Laboratory is affiliated with Cedars-Sinai Neurology & Neurosurgery and Brain Tumor Center.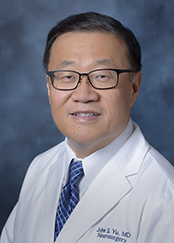 My research interest is in immunotherapy for brain tumors. My work focuses on clinical trials based on translational research using dendritic cells to prime the immune response against malignant glioma."
---
John S. Yu, MD
Targeting Glioma Stem Cells
Dendritic Cell Vaccine Targeting Glioblastoma Cancer Stem Cells

Chemokine CXC Receptor 4–Mediated Glioma Tumor Tracking by Bone Marrow–Derived Neural Progenitor/Stem Cells

Nanoplatform Technology to Deliver Drugs Through the Blood-Brain Barrier
Medical Oncology
Women's Cancer Biology
Meet Our Team
---
Learn more about the scientists, faculty members, investigators and other healthcare professionals of the Yu Laboratory, whose dedicated efforts lead to groundbreaking discoveries.
Cancer Lett. 2017 Nov 1;408:174-181.
Edwards LA, Li A, Berel D, Madany M, Kim NH, Liu M, Hymowitz M, Uy B, Jung R, Xu M, Black KL, Rentsendorj A, Fan X, Zhang W, Yu JS.

Sci Rep. 2017 Feb 28;7(1):69.
Wu JB, Shi C, Chu GC, Xu Q, Zhang Y, Li Q, Yu JS, Zhau HE, Chung LW.
Biomaterials. 2015 Oct;67:1-10.
Contact the Yu Lab
127 S. San Vicente Blvd.
Pavilion, Suite A-6215
Los Angeles, CA 90048