Personal Statement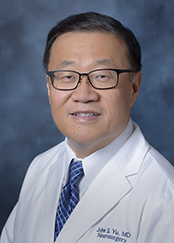 My research interest is in immunotherapy for brain tumors. My work focuses on clinical trials based on translational research using dendritic cells to prime the immune response against malignant glioma. Phase I and II clinical trials have demonstrated bioactivity correlated with clinical responses. A Phase I clinical trial evaluating ICT-107 (a new version of the experimental dendritic vaccine for the treatment of glioblastoma multiforme) showed that patients receiving the vaccine had a greater progression-free survival time than expected in this population. The median progression-free survival time (defined as the time between surgical tumor resection and tumor recurrence) in the 16 newly diagnosed patients enrolled in the trial was 19 months, which is 12 months longer than the historical progression-free survival time of 6.9 months. At the time the results were reported, 7 of the 16 patients continued to show no signs of tumor recurrence. Five patients had gone more than five years with no disease progression. In the past five years, my lab has completed a randomized Phase II trial in 25 centers across the U.S. and demonstrated a statistically significant increase in progression-free survival in patients with newly diagnosed glioblastoma. This result led to the initiation of a multi-institutional Phase III trial that was supported by the California Institute for Regenerative Medicine for $19.9 million. The Yu Lab has initiated a meeting with the U.S. Food and Drug Administration for accelerated approval of this drug, which was translated from findings at Cedars-Sinai. Phuphanich S, Wheeler CJ, Rudnick JD, Mazer M, Wang HQ, Nuno MA, Richardson JE, Fan X, Ji J, Chu RM, Bender JM, Hawkins ES, Patil CG, Black KL, Yu JS. Phase I trial of a multi-epitope-pulsed dendritic cell vaccine for patients with newly diagnosed glioblastoma. Cancer Immunol Immunother. 2013;62(1):125-135. https://link.springer.com/article/10.1007%2Fs00262-012-1319-0.
My team was one of the first to identify a cancer stem cell in adult glioblastoma.
These cancer stem cells share the multi-potent and self-renewing properties of normal stem cells with an aberrant and induced growth rate. The Yu Lab first documented that cancer stem cells are resistant to conventional chemotherapy and contribute to disease relapse and described the mechanism of chemoresistance in glioma cancer stem cells.
These cells are the ultimate source from which a tumor grows and, therefore, the ultimate target for therapies. The lab developed an animal model of intracranial glioma stem cells (Ghods et al. Stem Cells. 2007) and used it to demonstrate the efficacy of an experimental glioblastoma cancer stem cell–targeting vaccine.
The lab first showed that hedgehog signaling regulates brain tumor stem cell self-renewal and portends a shorter survival for patients with PTEN­coexpressing glioblastomas (Xu et al. Stem Cells. 2008). We identified a cytotoxic T cell epitope on glioma cancer stem cells.
This work has culminated in an active Phase I trial of a dendritic cell vaccine targeting CD133 on glioma cancer stem cells. Ji J, Judkowski VA, Liu G, Wang H, Bunying A, Li Z, Xu M, Bender J, Pinilla C, Yu JS. Identification of novel HLA-A*0201-restricted, cytotoxic T lymphocyte epitopes on CD133 for cancer stem cell immunotherapy. Stem Cells Trans Med. 2014;3(3):356-364. https://stemcellsjournals.onlinelibrary.wiley.com/doi/full/10.5966/sctm.2013-0135.
Another significant research interest for the Yu Lab is in cancer stem cell targeting, including the role of cancer stem cells in the initiation and propagation of brain tumors. During the past five years we have worked toward understanding the mechanisms of cancer stem cell chemoresistance and developing strategies to target cancer stem cells, exploiting unique cancer stem cell antigens and self-renewal pathways. In a recent paper in Scientific Reports, the Yu Lab showed the deletion of the ZEB1 gene in half of patients with glioblastoma, and the gene's role in cancer stem cell self renewal and chemoresistance. Edwards LA, Li A, Berel D, Madany M, Kim NH, Liu M, Hymowitz M, Uy B, Jung R, Xu M, Black KL, Rentsendorj A, Fan X, Zhang W, Yu JS. ZEB1 regulates glioma stemness through LIF repression. Sci Rep. 2017 Dec;7(1):69. https://www.nature.com/articles/s41598-017-00106-x.
Contact the Yu Lab
127 S. San Vicente Blvd.
Pavilion, Suite A-6215
Los Angeles, CA 90048