Clinical imaging research in the Zhou Laboratory focuses on investigating image quality optimization with balanced radiation dose. The current studies include digital mammography, computed tomography (CT) and fluoroscopy. In digital mammography, the focus is on finding practical methodologies to assess the performance of automatic exposure control. For CT, the Zhou Lab has studied the impact of adaptive statistical reconstruction to image quality. The Zhou Laboratory is interested in seeking optimal techniques for different sizes of patients from the physics perspective. Another goal is to investigate the potential of quantifying organ dose by extracting measurable dose during clinical CT acquisitions.
For preclinical imaging, the Zhou Lab is interested in quantitative methodologies, such as the impact of attenuation correction and scatter reduction to microPET/SPECT imaging. The scientific investigation of characterizing vulnerable plaque in animals is of high interest. Given that the plaque buildup is small, the molecular imaging signal in the lipid core becomes important. Another related project is the simulation of coronary artery blood flow, especially the relationship of fractional flow reserve and pre-existing infarct size.
The Zhou Laboratory is affiliated with the Biomedical Imaging Research Institute and Department of Biomedical Sciences.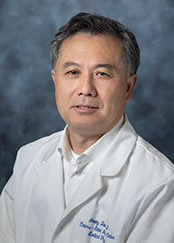 I am an imaging physicist at Cedars-Sinai. In my laboratory, we specialize in image quality optimization and patient dose reduction. The modalities we have worked include digital mammography and computed tomography.
---
Yifang Zhou, PhD
For mammography research, the Zhou Laboratory uses Rachel anthropomorphic breast phantom and BR12 to find the optimal acquisition techniques for the optimal automatic exposure control (AEC).
Rawson C, Zhou Y, Thompson R, Giaconi J.
J Radiol Imaging. 2017 Feb;2(2):6-10.
Zhou Y, Nute J, Scott II A, Lee C.
[published online ahead of print Dec. 31, 2016]. Med Phys.
Scott II A, Zhou Y, Allahverdian J, Nute J, Lee C.
J Appl Clin Med Phys. 2016;17(6):343-355.

Contact the Zhou Lab
8700 Beverly Blvd.
Third Street Building, Room 190
Los Angeles, CA 90048