The Cedars-Sinai Master's Degree in Health Delivery Science (MHDS) 20-month program is organized around 4 academic cores and a capstone project:

Program Overview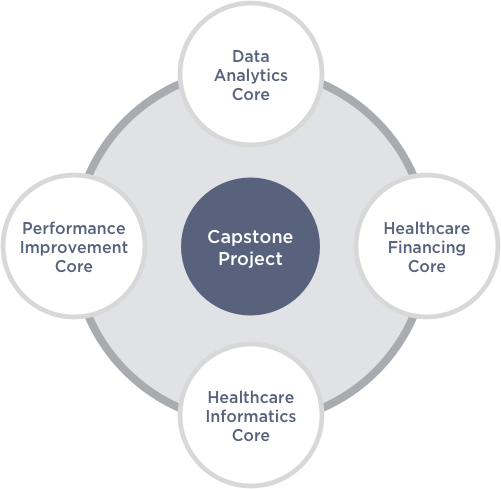 ---
The MHDS program features 12 required courses over five consecutive trimesters. Students complete their required didactic coursework within the first 12 months of the program, after which they complete an independent capstone project under the guidance of an assigned faculty mentor in the last eight months of the program. All required courses are taught in the evenings to accommodate students with daytime commitments. The MHDS program features a diverse combination of pedagogical approaches, including traditional classroom didactics, interactive didactics, hands-on laboratory sessions, journal clubs, project sessions work and immersed experiential learning within embedded research and operational teams.
The MHDS faculty believes it is vital to expose students to a wide range of learning experiences. Success in health delivery science requires a strong theoretical basis and pragmatic experiential learning to solidify classroom theory. In addition, students learn specific software programs, including statistical, data visualization, decision analysis and spreadsheet software that is taught in laboratory sessions. We accept a maximum of 20 students per year into this highly selective program.
In this hybrid program, courses will primarily be taught online through a remote-learning platform and interactive videoconferences in the evenings. Online learning will be supplemented by one 3-day (Thursday-Saturday) in-person session during each term (five in total). In these sessions, students will be introduced to the program and coursework, will meet with faculty mentors, will attend networking events and will learn how to use various software programs. In addition, during the final in-person session, students will give an in-person presentation to Cedars-Sinai leadership about the results of their capstone project.
Program Objectives
After completing the MHDS program, students will be able to: 
Explain key operational functions of the U.S. health system.
Identify healthcare delivery models and digital health innovations that can improve the quality, safety and value of care.
Use quantitative and qualitative research methods to evaluate the effectiveness and economic impact of healthcare innovations.
Demonstrate the leadership skills to successfully manage a project that involves people from diverse disciplines. 
Communicate effectively about healthcare delivery interventions to diverse stakeholders.
Unique Qualities of the MHDS Program
In contrast to a typical university-based curriculum, students in MHDS program are assigned project mentorship teams from the start and work closely with practitioners in the forefront of health delivery science. Students embed directly within teams operating at Cedars-Sinai, the largest nonprofit hospital in the Western United States and consistently ranked among the best in the nation by U.S. News & World Report.
In contrast to a typical school of public health curriculum, the MHDS program:
Combines biomedical sciences often taught separately, including health analytics, health informatics and healthcare financing, as well as performance measurement and improvement
Is a shorter and more efficient program than typical master's degree programs, allowing our students to learn well, learn efficiently and then get out and work
Is a highly applied degree that focuses on both academic training and pragmatic skill building
Allows students to gain hands-on expertise in data visualization as well as decision-analytic and health-analytic software programs
Provides exposure to digital health science, including use of wearable biosensors, social media analytics, electronic health record best practices, virtual and augmented reality in healthcare, mobile health applications and medical informatics
Teaches how to perform health economic analyses—an essential skill in modern value-based healthcare delivery
Exposes students to the

Cedars-Sinai

Accelerator, providing med-tech entrepreneurs with unparalleled knowledge about how to position biomedical innovations within the broader health delivery ecosystem
Students' studies culminate with an applied capstone project that they present to hospital leadership.
For more information about the program, see Frequently Asked Questions.
Academic Calendar 2021-22
---
---
Note: The Academic Calendar is subject to change
Additional Learning Opportunities
---
Health Services Lecture Series
Department of Medicine Grand Rounds
Grants Workshop
Clinical Scholars Program Courses:
Research Design
Research Ethics
Grantsmanship
Communication Skills
Healthcare Leadership Seminar Series
Important Statement & Notice of Accreditation
---
Please read our Accreditation Statement from the Western Association of Schools and Colleges (WASC) and our Statement of Academic Freedom.

Have Questions or Need Help?
If you have questions or wish to learn more about the MHDS program, please contact:
Graduate School of Biomedical Sciences
8687 Melrose Ave.
Suite G-532
West Hollywood, CA 90069