Cardiovascular Inflammation, Innate Immunity, Host Pathogen Interaction and Precision Immunology
The Arditi Laboratory, led by Moshe Arditi, MD, director of the Infectious and Immunological Diseases Research Center and the Division of Pediatric Infectious Diseases, investigates innate immunity and host-pathogen interactions as they relate to acute and chronic inflammatory diseases, with particular concentration on the lung and the cardiovascular systems. The disease models that are the focus of the Arditi Lab include cardiovascular inflammation, the role of innate and adaptive immunity in atherosclerosis and infection-induced acceleration of atherosclerosis in various hypercholesterolemic mouse models, Kawasaki disease vasculitis mouse model or coronary arteritis, aortitis, myocarditis and abdominal aorta aneurysm model. The Arditi Laboratory translational studies include the role of the gut microbiome and metabolomics as well as gender differences in cardiovascular diseases. The lab also investigates the basic mechanism of NLRP3 inflammasome activation, mitochondrial oxidative DNA damage and apoptosis as they relate to IL-1beta production. There is strong attention on the role of IL-1alpha and beta in various inflammatory diseases and novel ways to treat various inflammatory diseases. The laboratory also investigates auto-inflammatory diseases and autoimmune diseases such as the role of oxidative mitochondrial DNA damage in the increased risk of cardiovascular risk in systemic lupus erythematosus. Another focus is the molecular pathogenesis of bacterial infections of the lungs and the role of innate and adaptive immunities in various infections and infection-induced (Chlamydia pneumoniae) infection acute and chronic inflammatory diseases, such as allergic asthma and chronic lung changes, and acute lung injury. Finally, the laboratory is also investigating the role of pathogenic Th17 cells in inflammatory bowel disease models and the role of inflammation and the immune system in various experimental tumor and neuroinflammatory disease models.
The Arditi Laboratory is affiliated with the Infectious and Immunologic Diseases Research Center, Smidt Heart Institute, Department of Biomedical Sciences and Pediatrics Department.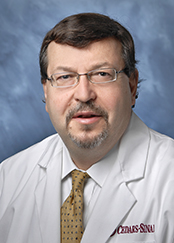 Moshe Arditi, MD, is the executive vice chair of the Department of Pediatrics for Research and the director of the Pediatric Infectious Diseases and Immunology Division at Cedars-Sinai. He is also director of the Infectious and Immunological Diseases Research Center in the Department of the Biomedical Sciences and a member of the Cedars-Sinai Smidt Heart Institute. Arditi is the program director of the Cedars-Sinai Immunobiology T32 training grant. He and his team have been among the leaders at Cedars-Sinai to promote the concept of "team science," with five principal investigators in his group focused on translating basic science advances to patients."
---
Moshe Arditi, MD
Division of Pediatric Infectious Diseases, Allergy and Immunology, Department of Pediatrics
Meet Our Team
---
Learn more about the scientists, faculty members, investigators and other healthcare professionals of the Arditi Laboratory, whose dedicated efforts lead to groundbreaking discoveries.
Nat Rev Rheumatol. 2020 Jul;16(7):391-405.
Chen S, Markman JL, Shimada K, Crother TR, Lane M, Abolhesn A, Shah PK, Arditi M.

JACC Basic Transl Sci. 2020 May 20;5(6):582-598.
Rolfes V, Ribeiro LS, Hawwari I, Böttcher L, Rosero N, Maasewerd S, Santos ML, Próchnicki T, de Souza Silva CM, de Souza Wanderley CW, Rothe M.

Cell Rep. 2020 May 12;31(6):107615.
Markman JL, Porritt RA, Wakita D, Lane ME, Martinon D, Rivas MN, Luu M, Posadas EM, Crother TR, Arditi M.

Nat Commun. 2020 Mar 31;11(1):1613.
Contact the Arditi Lab
8700 Beverly Blvd.
Davis Building, Rooms D4024, D4025, D4027
Los Angeles, CA 90048