The Gulati Laboratory is a systems neuroscience laboratory interested in understanding the motor basis of behavior. The lab uses cortical and spinal electrophysiology to understand the neural basis of motor control and learning, as well as sleep-related consolidation of a motor skill.
The Gulati Lab is also investigating novel neuroengineering strategies for repair and functional recovery after brain injury (stroke) and spinal cord injury that utilize development of spinal/cortical motor prostheses, brain machine interfaces and neurorobotics.
The Gulati Laboratory is affiliated with the Cedars-Sinai Center for Neural Science and Medicine, Department of Biomedical Sciences and Department of Neurology.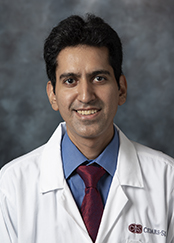 Since my foray into neurosciences, I have been fascinated with neurobiological motor control. Motor acts are the ultimate way that control how we act in the world and express our cognitive, perceptual and reflexive neural processes' outcomes. During my PhD, I focused on spinal control of movement and, during my postdoc, ventured into the cortical basis of skill learning."
---
Tanuj Gulati, PhD
The Gulati Laboratory research interests are in motor-systems neuroscience, especially in how motor control and motor learning are enacted by motor networks in intact and injured states. The Gulati Lab is using electrophysiology tools in rodents and humans to study these processes at the single neuronal and network level. 
Meet Our Team
---
Learn more about the scientists, faculty members, investigators and other healthcare professionals of the Gulati Laboratory, whose dedicated efforts lead to groundbreaking discoveries.
---
Fleischer P, Abbasi A, Fealy AW, Danielsen ND, Sandhu R, Raj PR, Gulati T.
eNeuro. 2023 Feb 21;10(2):ENEURO.0011-23.2023.
Abbasi A, Danielsen NP, Leung J, Muhammad AKMG, Patel S, Gulati T.

J Neuroeng Rehabil. 2021 May 26;18(1):89.

Kim J, Gulati T, Ganguly K.

Cell. 2019 Oct 3;179(2):514-526.

Ramanathan DS*, Guo L*, Gulati T*, Davidson G, Hishinuma A, Won SJ, Knight RT, Chang EF, Swanson RA, Ganguly K. (*equally contributing authors)
Nat Med. 2018 Aug;24(8):1257-1267.
Contact the Gulati Lab
127 S. San Vicente Blvd.
Advanced Health Sciences Pavilion, Eighth Floor
Los Angeles, CA 90048