The Women's Guild Simulation Center for Advanced Clinical Skills is an immersive environment equipped with the latest in patient simulators and medical devices. The center replicates the reality of professionals working together, performing different roles and using the latest technology within our system. Multi-professional clinical skills development, teamwork, improving communication and, ultimately, patient safety are at the heart of the center's ethos. This proactive approach helps Cedars-Sinai provide the best possible care to patients and provides staff with the latest in educational technology.

Meeting the Highest Standards in Clinical Education
---
Accreditations and endorsements by these organizations recognize that the Women's Guild Simulation Center presents high-quality educational offerings, collaborates on best practices around new education and new technology, and consistently promotes patient safety.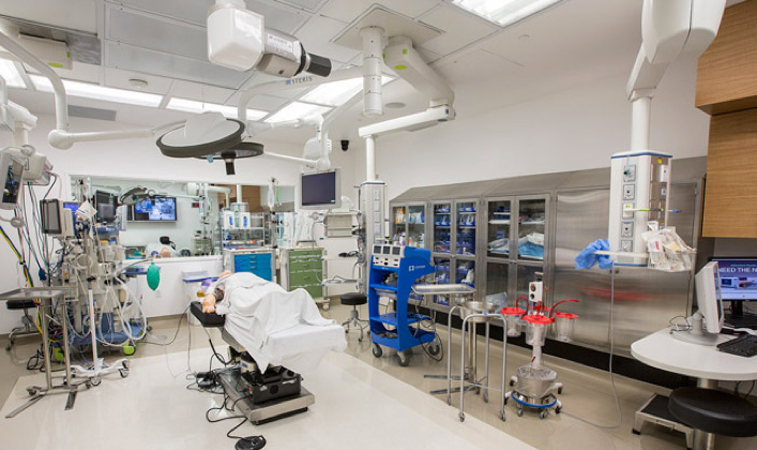 Inside the Center
The 10,000-square-foot Women's Guild Simulation Center comprises two fully equipped and functioning operating rooms, an ICU, OB/GYN room and a trauma bay. It has a PICU/NICU and multiple rooms for skills training and development. The center also includes a fully equipped computerized simulation room with simulators for practicing almost every procedure, as well as robotic surgery. Take a look inside to see what makes this a transformational training facility.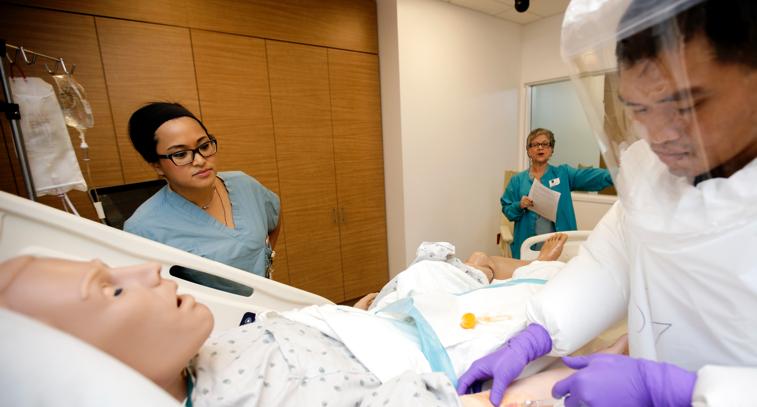 Our Simulators
The Women's Guild Simulation Center is home to 13 robotic mannequins that can blink, bleed, talk, hyperventilate and give birth, as well as one anatomical simulator that looks and feels completely real and allows for practicing surgical techniques.

Training & Services
---
The Women's Guild Simulation Center offers a broad range of existing services and courses to challenge a variety of disciplines, and can customize training to meet specific needs.

The Emergency Medical Technician (EMT) Program is a nationally recognized training curriculum that prepares students to receive this certification.
Simulation education for physician anesthesiologists allowing them to problem-solve issues in a setting that closely replicates clinical experience during surgery.
The ALERT™ program is developed to provide the multidisciplinary healthcare team with a systematic approach to recognizing, treating and escalating to a higher level of care.

This program opens the Simulation Center to students interested in pursuing healthcare careers and gives them a one-day experience often available only to qualified staff.

Meet Ralph, Our Dummy
If you need a research environment for product testing and state-of-the-art simulation, or you're looking for a summer school program for kids or a highly realistic place to film a movie. Watch how our dummy Ralph at the Cedars-Sinai Women's Guild Simulation Center provides realistic training opportunities.
Simulation Center Team
It takes a village of clinical specialists, nurses, administrators, coordinators, physicians and surgeons, executives and advisors to manage and operate the Simulation Center. Meet the team and committee members who help make this happen.
Simulation Center and OR360 Filming Location
The Simulation Center and OR360 is an excellent location for your filming or photography needs. Filming is strictly restricted to production within the simulation spaces and cannot occur in other hospital location. Contact us if you are interested in booking.
Your Gift Helps Advance Our Research
Cedars-Sinai is committed to pushing the frontiers of medicine and discovering new technologies and innovations that will change the way we diagnose and treat disease. With your support we can change the future of healthcare.
Have Questions or Need Help?
Contact us if you have questions or want to learn more about Women's Guild Simulation Center.