The curriculum of the PhD in Biomedical Sciences emphasizes research training and closely mentored instruction within a human disease-focused framework. The program prepares students for successful careers by training them as well-rounded scientists with a strong foundation of knowledge in research design, methodology, presentation and the skills needed to compete for research funding.

One of the PhD program's primary goals is to provide a contextual understanding of how basic and preclinical research relate to treatment and pathophysiology of disease. Courses are taught in small tutorial groups by members of the world-class PhD and MD faculty of Cedars-Sinai.
Throughout the program, students have access to both basic science and clinical research mentors. Students are taught both by clinicians who diagnose and treat the diseases and by scientists who study their underlying mechanisms. Units will integrate biochemistry, immunology, genetics and microbiology, underscoring their interrelationships in understanding the mechanisms of human disease. Students will achieve:
Broad knowledge and understanding of the biological sciences and their relevance to medicine 
Creativity in and enthusiasm for scientific ideas 
The ability to think "scientifically" and to negotiate scientific problem-solving 
The ability to acquire the necessary knowledge that is not included in the core curriculum but that is relevant to research projects 
The ability to conduct a scientific argument verbally and/or in writing with mentor, teachers and peers
Initiative in engaging mentors, teachers and peers in creating supportive networks to enhance scientific growth
Productive interactions with clinicians working on medical problems relevant to the primary research interest of the student to facilitate translational opportunities
---
PhD students receive a $41,000 annual stipend as well as health insurance coverage.

Year 1
First-year students will be introduced to mentors and laboratories and will select up to three laboratories through which to rotate. Students will spend time in these laboratories familiarizing themselves with the research and the researchers. At the end of the laboratory rotations, the students will select their thesis mentors.
During the first year, all students will complete the core curriculum and participate in ongoing workshops, seminars and research-in-progress talks and complete three courses: immunology/infectious diseases, genomics/genetics and developmental and cell biology.
In addition, students must complete a biostatistics/bioinformatics course. Students are also encouraged to attend lectures, presentations and talks given throughout the medical center.

Year 2
During the second year, students must complete a bioethics course, successfully complete a qualifying examination and participate in ongoing workshops and seminars. In addition, students must attend weekly research-in-progress meetings, which are required through to their fourth year.
After successfully passing the qualifying examination, students are advanced to PhD candidacy. At this time, students select a doctoral committee and prepare a proposal for their dissertation research.

Year 3
In their third year (and on), students complete thesis research and write and defend their dissertation. Students meet regularly with their doctoral committees and participate in ongoing workshops, seminars and research-in-progress meetings.
Students may also select a translational research mentor who supplements and adds value to the student's research while building on the translational and clinical element of the student's dissertation. Students are required to include a chapter on the translational relevance of their research in their final dissertation.
During this time, students also participate in an annual Graduate Student Symposium where graduate students present research talks and poster presentations. Graduate students from other institutions are invited to participate to share research and ideas as well as network.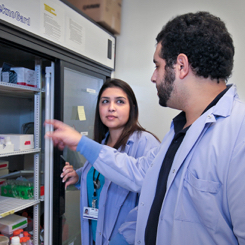 Laboratory Rotations
Students are required to complete up to three laboratory rotations during the first year of the program. Laboratory rotations give graduate students an opportunity to experience different laboratory environments, research opportunities and investigators that they may be considering for their thesis research. These rotations also allow the faculty to get to know the students and evaluate them in a research setting. Laboratory rotations run congruent with the academic trimesters.
Students are expected to partake fully in the laboratories' activities, including group laboratory meetings, discussion groups and laboratory projects. Students are expected to arrange independently each of their rotations with the Cedars-Sinai mentoring faculty who are participating in the program.

Have Questions or Need Help?
If you have questions or wish to learn more about the PhD program, call us or send a message.

Graduate School of Biomedical Sciences
8687 Melrose Ave.
Suite G-532
West Hollywood, CA 90069