Academic Mission & Vision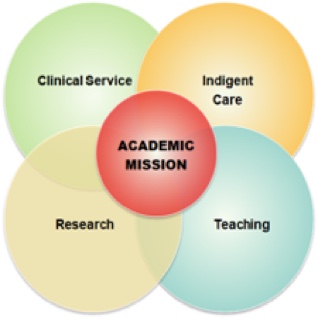 Our Mission
As a non-profit, independent healthcare organization, Cedars-Sinai Health System is committed to:
Leadership and excellence in delivering quality healthcare services 
Expanding horizons of medical knowledge through biomedical research

Educating and training physicians and other healthcare professionals
Striving to improve the health status of our community
Quality patient care is our priority. Providing excellent clinical and service quality, offering compassionate care, and supporting research and education are our goals.

Our mission is founded in the ethical and cultural precepts of the Judaic tradition, which inspire devotion to the art and science of healing and to the care we give our patients and staff.
---
Our Vision
Biomedical research and education are essential, integral components of the Cedars-Sinai mission. The vision for research and education is to:
Promote biomedical research that is of the highest quality as judged by our peers
Translate research discoveries to improved patient care
Enable access to leading-edge therapies and medical technologies in clinical trials
Educate research and medical professionals
To effectively implement the vision, we recognize the need to:
Uphold the values of academic freedom, promote research in targeted areas aligned with institutional goals
Provide outstanding faculty support and facilities to enable meritorious research programs within the limits of available resources
Encourage community support for such services, as well as community education
Have Questions or Need Help?
Contact us if you have questions or would like to learn more about the research and education programs at Cedars-Sinai.