Postdoc Society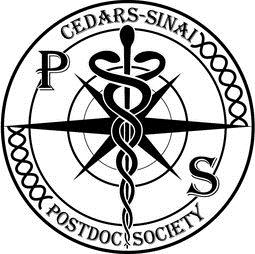 The Cedars-Sinai Postdoc Society was established to foster a network of junior researchers and encourage collaboration within the local research community. It is run by postdocs, for postdocs. Along with monthly gatherings, the society organizes programs around research, awards and recognitions, and other social events.
Meet Our Team
---
The PostDoc Society is governed by a committee of postdoctoral scientists and fellows who bring their expertise to administering the society's activities. Blandine Chazarin Orgel
Saeed Seyedmohammad Sarah McCallum Esha Gauba Chus Villanueva Millan Kate Lagree Elisabeth Jaeger Heather Lynn
The primary activity of the Postdoc Society is the monthly Gathering for Postdoctoral Science (GPS), which provides Cedars-Sinai postdocs with opportunities to present their work and network with other postdocs. The monthly GPS meetings are held the second Monday of every month from 3-4 p.m. A reminder email is sent as a monthly reminder of the meetings and will include the location/virtual link and detailed information.
Have Questions or Need Help?
Contact us if you have questions or would like to learn more about Cedars-Sinai's Postdoctoral Scientist Training Program.
Emma Yates Casler
Program Manager