Physician Scientist Training Program Faculty
Our diverse faculty of physician-scientists and doctoral scientists are engaged in clinical, translational and basic science research. Cedars-Sinai ranks among the top 10 independent medical centers for National Institutes of Health research funding, and our collaborative research projects span a wide array of specialties.

Endocrinology, Diabetes & Metabolism
Infectious Disease/Immunology
Pulmonary & Critical Care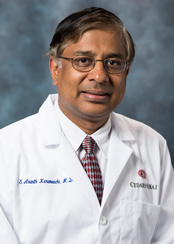 Ananth Karumanchi, MD
Have Questions or Need Help?
If you have questions or would like to learn more about the Internal Medicine Physician-Scientist Training Program at Cedars-Sinai, please send us a message.
8700 Beverly Blvd.
Becker Bldg., Suite B113
Los Angeles, CA 90048