The Master of Science in Magnetic Resonance in Medicine (MSMRM) program is a focused 20-month, lock-step program (5 consecutive trimesters) emphasizing technical excellence and creative thinking.
We offer a curriculum that balances technical and theoretical knowledge with clinical applications. MSMRM students are immersed in research and clinical work early on to provide hands-on experience in an academic medical environment. Clinical and research mentors teach our students the translational aspects of their imaging research and how to integrate their knowledge and skills into practice throughout the program.

Program Overview
---
The MSMRM curriculum provides education and training in basic MR physics and hardware system, MR technical development, artificial intelligence/deep learning, and research methods. Students will also learn the clinical applications of MR through substantial collaborative research projects.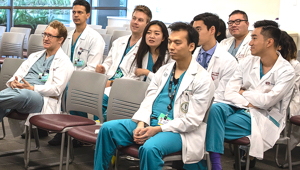 During the first year of study, students will participate in didactic courses, seminars, journal club and lab rotations. In the second year, students also will participate in a clinical rotation, internship rotation, American Board of Medical Physics (ABMP) certification preparatory workshop and culminate their work in a thesis research project.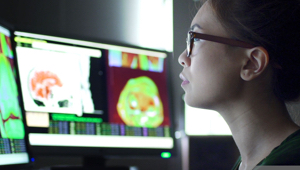 The MSMRM degree will prepare students for careers such as clinical MR scientist, research/applications scientists or research associates. It is also excellent advanced training for current healthcare professionals and PhD or MD candidates.

Year 1
Trimester 1

Trimester 2

Trimester 3

MRM 510
Seminar/Journal Club Series I

MRM 511
Introduction to Physiology and Anatomy

MRM 512
Biomedical Imaging

MRM 513
Principles of Biomedical Signals and Imaging

MRM 517
MRI Lab Rotation I*

MRM 520 Seminar/Journal Club Series I

MRM 521
MR Imaging: Clinical Applications

MRM 624
MR Technical Developments and Advanced Imaging

MRM 527
MRI Lab Rotation II*

MRM 528
Clinical Rotation I

MRM 530
Seminar/Journal Club Series I

MRM 533
Advanced Imaging and AI

MRM 535
MRI: Experimental Design and Planning

MRM 537
MRI Lab Rotation III*

MRM 538
Clinical Rotation II
Year 2
Trimester 4

Trimester 5

MRM 610
Seminar/Journal Club Series I

MRM 618
Clinical Rotation III

MRM 619
Thesis/Project I
 


 



 

MRM 620
Seminar/Journal Club Series I

MRM 627
Internship Rotation (Elective)

MRM 629
Thesis/Project II

*Students are required to enroll in at least 2 Lab Rotation courses.

Important Statement & Notice of Accreditation
---
Please read our Accreditation Statement from the Western Association of Schools and Colleges (WASC) and our Statement of Academic Freedom.

Have Questions or Need Help?
For inquiries, please contact Wafa Tawackoli, PhD, Associate Program Director.

Office Location:
Pacific Theatres Building
116 N. Robertson Blvd.
Suite 400
Los Angeles, CA 90048
Mailing Address:
Cedars-Sinai
8687 Melrose Ave.
Pacific Design Center, Suite G532-B
Los Angeles, CA 90048