Research Areas
Work in the Erbay Laboratory over the past decade has shown:
Endoplasmic reticulum stress is causally associated with hyperlipidemia-induced, chronic and sterile inflammation that drives atherosclerosis. Using small molecule chaperones and genetic models, I have shown that reducing endoplasmic reticulum stress alleviates atherosclerosis. These initial findings laid the groundwork for my lab's current research program focused on understanding how endoplasmic reticulum stress impinges on inflammation and contributes to atherosclerosis development.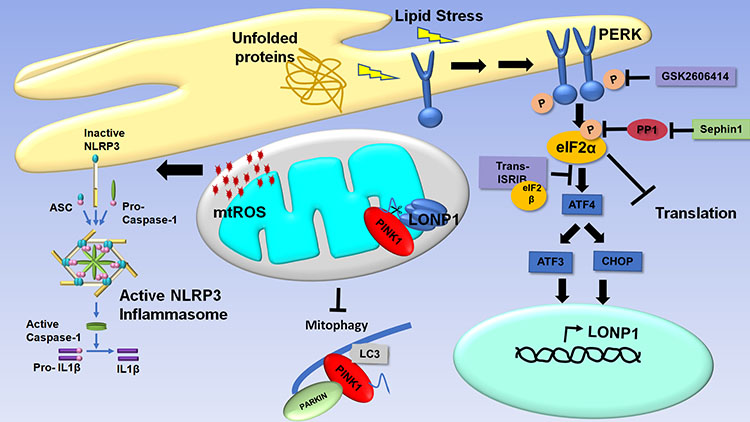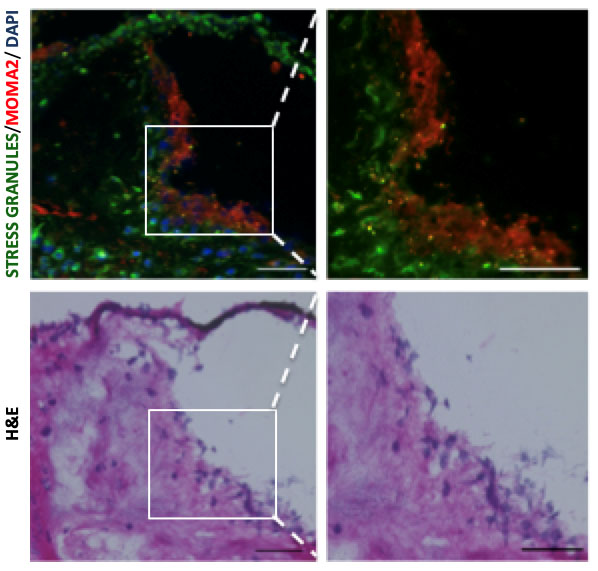 The Erbay Lab identified highly specific, nontoxic small molecule modulators of ER stress signaling that can reduce metabolic inflammation and atherosclerotic burden in mice. First, in collaboration with Peter Walter, PhD, we showed inhibiting one of the three signaling arms of the endoplasmic reticulum stress response that is controlled by Inositol-requiring enzyme-1 (IRE1) kinase can counteract hyperlipidemia-induced inflammation and atherosclerotic plaque progression. Second, we targeted the endoplasmic reticulum stress response-signaling arm that is regulated by protein kinase-R-like endoplasmic reticulum kinase (PERK) with highly specific small molecule inhibitors to prevent atherosclerosis. In this collaborative study with Roberta Gottlieb, MD, we discovered that endoplasmic reticulum stress signaling can directly inhibit mitochondrial clearance pathways and promote oxidative stress response that heightens inflammation. These studies showed that it may be feasible to therapeutically modulate this homeostatic stress response in a chronic disease setting for metabolic benefits. Our current work is focused on how IRE1 kinase regulates macrophage immunometabolism in relevance to its anti-atherosclerotic role. Our exciting findings reveal that IRE1 kinase has some unexpected substrates that couple it to immunometabolism. This work was recently awarded NIH funding.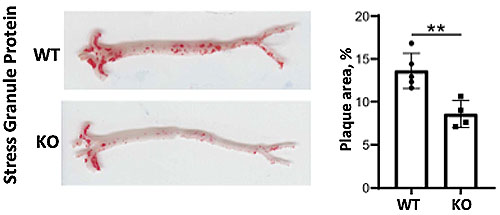 Hyperlipidemia-induced changes on ER membranes can be remodeled by bioactive, monounsaturated lipid species, palmitoleate, and counteract lipid-induced inflammation and atherosclerosis progression. This was the first paper published from my laboratory. In the follow-up studies, we further demonstrated that the double bond configuration in palmitoleate plays a critical role in its anti-inflammatory and anti-atherosclerotic functions.
Our ongoing research is focused on novel stress communicators between endoplasmic reticulum and mitochondria that potentiate sterile inflammation in metabolically challenging conditions such as cardiometabolic syndrome. Interestingly, these are RNA-binding proteins with diverse roles in stress granules and RNA processing pathways. These studies were recently awarded federal funding.
Contact the Erbay Lab
If you have any questions or would like more information about the research work at the Erbay Laboratory, please give us a call.
Advanced Health Sciences Pavilion, Room A9104
127 S. San Vicente Blvd.
Los Angeles, CA 90048