The Hitchins Laboratory undertakes translational cancer research with a focus on genetic and epigenetic alterations associated with cancer, in particular cancer-specific changes in DNA methylation. Researchers in the Hitchins Lab undertake studies on genetic and epigenetic alterations that predispose to cancer onset, as well as the discovery and development of epigenetic alterations to serve as tumor biomarkers for applications to cancer diagnosis, prognosis or prediction of treatment outcomes.
The Hitchins Laboratory is affiliated with the Cedars-Sinai Department of Biomedical Sciences.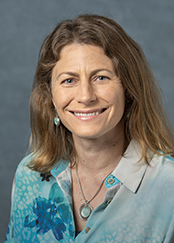 My scientific training, expertise and research interests throughout my career have focused on the role of altered genetic and epigenetic states in disease etiology and outcomes. My doctorate/postdoctoral training focused on the role of genomic imprinting (parent-of-origin epigenetic states) in embryogenesis and congenital disease. Thereafter, my research focus evolved to the study of cancer. A particular focus was the role of constitutional methylation (epimutation) as a new cause for high-risk cancer syndromes and the variable intergenerational inheritance patterns associated with this epigenetic defect."
---
Megan Hitchins, PhD
Identification and clinical testing of methylated DNA biomarkers for the detection of ctDNA in plasma: Early diagnosis and monitoring for cancer progression/response to treatment.
Identification of unusual causes for cancer predisposition in high-risk groups—typically in patients/families who received negative/uninformative/limited Clinical Laboratory Improvement Amendments-approved genetic test results, to detect cryptic germline mutations, structural variants (SVs), epimutation and variance of unknown significance reclassification.
Targeted pyrosequencing (detection and quantification of hot-spot mutations, CpG methylation, allelic expression, copy number variation, loss of heterozygosity). Applications: Verification, molecular diagnostics, particularly robust for formalin-fixed paraffin-embedded tissue samples.

Alexandra Ganji, MD
Gastrointestinal Surgery

Dechen Lin, PhD

Meet Our Team
---
Learn more about the scientists, faculty members, investigators and other healthcare professionals of the Hitchins Laboratory, whose dedicated efforts lead to groundbreaking discoveries.
Kuroiwa-Trzmielina J, Wang F, Rapkins RW, Ward RL, Buchanan DD, Win AK, Clendenning M, Rosty C, Southey MC, Winship IM, Hopper JL, Jenkins MA, Olivier J, Hawkins NJ, Hitchins MP.
Clin Cancer Res. 2016 Dec 15;22(24):6266-6277.
Lynch HT, Snyder C, Shaw T, Heinen CD, Hitchins MP.
Nat Rev Cancer. 2015 Mar;15(3):181-194.
Rapkins RW, Wang F, Nguyen HN, Cloughesy TF, Lai A, Ha W, Nowak AK, Hitchins MP, McDonald KL.
Neuro Oncol. 2015 Dec;17(12):1589-1598.
Contact the Hitchins Lab
8700 Beverly Blvd.
Steven Spielberg Building, Room 119
Los Angeles, CA 90048