Work in the Theodorescu Laboratory focuses on identifying clinically relevant oncogenic drivers or suppressors of tumor growth and metastasis and translating this knowledge into biomarkers and therapies useful in implementing precision cancer medicine. The Theodorescu Lab has a broad background in cellular and molecular biology, in vivo models of cancer and translational cancer research, including work with human tissues and clinical trials. More specifically, the lab has expertise in bioinformatics and prognostic and predictive biomarker development as well as drug discovery and development. The Theodorescu Lab has also successfully developed collaborations and led teams of scientists that have produced seminal contributions to science. These include clinical translation of our basic discoveries through both national clinical trials (e.g., SWOG trial (S1314) of the COXEN principle) and pharmaceutical partnerships of drug development (development of Ral compounds).
The Theodorescu Laboratory is affiliated with the Cedars-Sinai Cancer Program.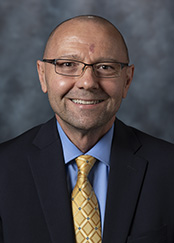 I received my urological training in the Surgeon Scientist Training Program in the Department of Surgery at the University of Toronto, where I also obtained a doctorate in molecular and cell biology with Robert Kerbel, PhD. I then completed a clinical fellowship in urologic oncology at the Memorial Sloan Kettering Cancer Center in New York City."
---
Dan Theodorescu, MD, PhD
For the past 40 years, one of most effective immunotherapies in any malignancy has been the intravesical instillation of bacillus Calmette-Guerin (BCG) for bladder cancer. BCG is an attenuated tuberculoid strain of bacteria that has become a part of the standard of care for patients with bladder cancer. 
Meet Our Team
---
Learn more about the scientists, faculty members, investigators and other healthcare professionals of the Theodorescu Laboratory, whose dedicated efforts lead to groundbreaking discoveries.
Tu MM, Lee FYF, Jones RT, Kimball AK, Saravia E, Graziano RF, Coleman B, Menard K, Yan J, Michaud E, Chang H, Abdel-Hafiz HA, Rozhok AI, Duex JE, Agarwal N, Chauca-Diaz A, Johnson LK, Ng TL, Cambier JC, Clambey ET, Costello JC, Korman AJ, Theodorescu D.
Sci Adv. 2019 Feb 20;5(2):eaav2437. 
Morgan MJ*, Fitzwalter BE, Owens CR, Powers RK, Sottnik JL, Gamez G, Costello JC, Theodorescu D,* Thorburn A. 
Proc Natl Acad Sci U S A. 2018 Sep 4;115(36):E8479-E8488.
Ahmed M, Sottnik JL, Dancik GM, Sahu D, Hansel DE, Theodorescu D*, Schwartz MA*.
Cancer Cell. 2016 Sep 12;30(3):432-443.
Contact the Theodorescu Lab
8700 Beverly Blvd.
Davis Building, Room 3057
Los Angeles, CA 90048