June 2020 Case
Clinical History
The patient, a female in her late 20s, presented at an outside clinic with abdominal pain and was found to have a right peritoneal inclusion cyst on CT scan. Patient had a remote history of persistent abnormal lung opacities on chest imaging. Cystectomy was performed. The cyst wall was submitted for surgical pathology evaluation while the cyst fluid and pelvic washings were submitted for cytologic evaluation.
Microscopic Findings
Direct smears and cell block prepared from the cyst fluid showed clusters of bland spindled to cuboidal epithelioid cells without atypia or mitotic activity in a background containing abundant small, mature lymphocytes. The tumor cells were arranged around thin walled vascular spaces. (Figure 1). The differential diagnosis was broad, and additional work-up would be indicated. In this case, the diagnosis on cytology fluid was confirmed by correlating with concurrent surgical specimen.
The surgical resection of the cyst wall showed proliferation of spindled cells surrounding thin-walled vessels and prominent cystic spaces (Figure 2). The cells lacked atypia and mitotic activity. Some of the cells had elongated, cigar-shaped nuclei with eosinophilic cytoplasm, reminiscent of smooth muscle cells. Others were ovoid to cuboidal, with focal clear cell changes. Aggregates of lymphocytes were also noted on surgical resection. The presence of prominent cystic spaces and the bland appearances of epithelioid cells surrounding vessels raised the possibility of perivascular epithelioid cell tumor (PEComa)/lymphangioleiomyomatosis (LAM). Differential diagnosis includes other low-grade spindle neoplasms and epithelial neoplasms. Immunohistochemical stains were ordered. The epithelioid cells stained positive for SMA, desmin, caldesmon, HMB-45, and TFE3, negative for CK7, CK20, PAX8, WT1 (ruled out epithelial origin), negative for DOG1 (ruled out gastrointestinal epithelial tumor), negative for STAT 6 (ruled out hemangiopericytoma), and negative for CD34 (ruled out spindle cell lipoma), supporting the diagnosis of PEComa. LAM should also be considered in this young female patient with history of abnormal lung imaging (see discussion below).
Review of the literature found reported cytologic findings of PEComa/LAM include spindle cell balls lined by lymphatic-like endothelial cells1, delicate vessels transgressing clusters of bland-appearing epithelioid to spindled cells with oval or elongated nuclei, indistinct nucleoli and finely vacuolated cytoplasm2. The differential diagnosis can include other tumors with epithelioid to spindled morphology (leiomyoma, gastrointestinal stromal tumor, hemangiopericytoma, lipoma/liposarcoma) and/or clear cell morphology (clear cell sarcoma, melanoma, alveolar soft part sarcoma, acinic cell carcinoma). The clues to the right diagnosis lie in identifying the cystic spaces and/or perivascular architecture, the bland-appearing nature of the cells, and the varying degrees of spindled to epithelioid nuclear shapes. The cystic spaces and the perivascular architecture were not appreciated in the smears in this case. Nevertheless, cell blocks may certainly help in highlighting the architecture and may be used for IHC staining.
Diagnosis
Cytology (cyst fluid): atypical cells present, consistent with PEComa/lymphangioleiomyomatosis
Surgical (cyst wall, cystectomy): perivascular epithelioid cell tumor
(PEComa)/lymphangioleiomyomatosis, ~3.7 cm.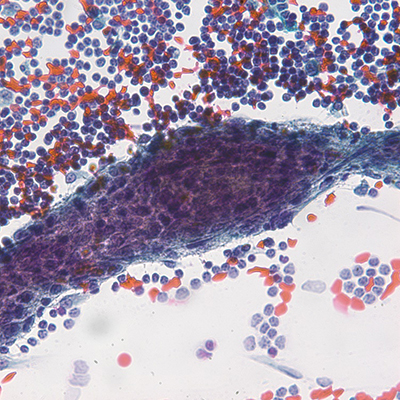 Figure 1: Cyst fluid cytology. A, B: Direct smears showing bland epithelioid to spindled cell proliferation in a lymphocytic background, Papanicolaou stains, 60x; C, D: cell block showing bland epithelioid to spindled cell proliferation with few vessels seen, H&E, 60x.
Figure 2: Cyst wall resection. A: Spindled cell proliferation in cystic spaces, H&E, 4x. B: Spindled cells with adjacent aggregates of lymphocytes, H&E, 20x. C: Spindled cells surrounding vessel, H&E, 40x. D: Spindled cells surrounding multiple vessels, H&E, 60x. E: Spindled to epithelioid nuclear shapes, H&E, 60x. F: SMA IHC, 20x. G: HMB45 red IHC, 20x. H: TFE3 IHC, 20x.
Diagnosis
PEComa is a group of mesenchymal neoplasms that is postulated to arise from perivascular epithelioid cells3. These neoplasms demonstrate a spindle cell proliferation that tends to surround thin-walled capillary vessels and/or associated with walls of larger vessels. The cells classically have combined myomelanocytic immunophenotype. In identifying this tumor, SMA and HMB-45 immunohistochemical (IHC) stains are the most sensitive markers for smooth muscle differentiation and melanocytic differentiation, respectively. Other useful IHC stains include desmin, caldesmon (smooth muscle markers), MART-1/melan A, and MITF (melanocytic markers)4. Subsets of tumor demonstrate TFE3 rearrangement and stain positive for nuclear TFE3 IHC stain. There is also an association with tuberous sclerosis, as a significant subset of tumors have deletions of TSC2 (Tuberous sclerosis complex 2) gene with activation of mTOR pathway.
Subtypes of PEComa include angiomyolipoma, clear cell sugar tumor, and lymphangioleiomyomatosis (LAM). Angiomyolipoma classically involves the kidney, and has three components: vessels, smooth muscle, and fat. Clear cell sugar tumor involves the lung like LAM, but generally affects older adults and lacks cystic spaces compared to LAM. Clear cell sugar tumor is grouped together with LAM under PEComatous tumor in 2015 WHO Classification of Lung Tumors.
LAM is a rare multisystem disease that mainly affects the lungs. LAM is more common in young women. Apart from involving the lungs, LAM can involve organs such as kidney, abdomen, lymphatic vasculatures, etc. On surgical histology, LAM shows spindle cell proliferations lining cystic structures. There can be focal clear cell changes, but the cells distinctively lack atypia or mitotic activities. Hemorrhage can be prominent. The cells co-express smooth muscle markers (such as smooth muscle actin, desmin) and melanocytic markers (such as HMB-45, Melan-A/MART1, and MITF)4. The main differential diagnosis of LAM include leiomyoma (presents as a tumor mass and lack prominent cystic change) and leiomyosarcoma (has atypia or mitotic activity).
LAM has variable prognosis with the typical course of a slow progression to pulmonary failure3 5. Current treatments for LAM are based upon supportive care, use of mTOR inhibitor drugs such as sirolimus or everolimus, and prevention of complications. Testing for tuberous sclerosis should be done in all cases with diagnosis of PEComa/LAM to further characterize the patients' disease.
In conclusion, this was a new diagnosis of PEComa/possibly LAM in an abdominal cyst of a young female patient. Diagnosis of PEComa/LAM on cytology fluid can be challenging; therefore, confirmatory testing and/or surgical biopsy/excision will help.
References
1. Rivera G, Gokaslan T, Kurian EM. Lymphangioleiomyomatosis Diagnosed by Effusion Cytology: A Case Report. J Cytol. 2015; 32(4):287-289.

2. Policarpio-Nicolas ML, Covell J, Bregman S, Atkins K. Fine Needle Aspiration Cytology of Clear Cell "Sugar" Tumor (PEComa) of the Lung: Report of a Case. Diagn Cytopathol. 2008; 36(2):89-93.
3. Martignoni G, Pea M, Reghellin D, Zamboni G, Bonetti F. PEComas: The Past, the Present and the Future. Virchows Arch. 2008; 452(2):119-32.
4. Zhang X, Travis WD. Pulmonary lymphangioleiomyomatosis. Arch Pathol Lab Med. 2010; 134(12):1823-8
5. Moir LM. Lymphangioleiomyomatosis: Current Understanding and Potential Treatments. Pharmacol Ther. 2016; 158:114-24