Genomic Pathology Rotation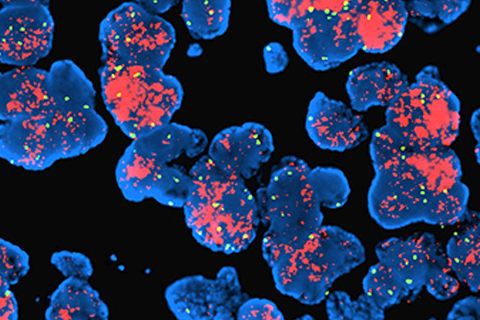 The genomic pathology rotation integrates the molecular pathology and cytogenetics services. Understanding of the human genome is revolutionizing the practice of medicine in all disciplines, and central to these advances are the genetic tests performed in the cytogenetics and molecular genetic pathology laboratories.
Case Mix
The cytogenetics laboratory specializes in large-scale, genetic analysis using the tools of conventional karyotype, fluorescence in situ hybridization (FISH), and chromosomal microarrays to evaluate structural and copy number alterations throughout the genome. The molecular genetic pathology laboratory specializes in DNA-sequencing-based analysis, including polymerase chain reaction (PCR), quantitative PCR, high-resolution melting curve analysis, Sanger sequencing, and next-generation sequencing (NGS) to assess specific genetic alterations associated with disease. The main areas of testing in these laboratories are constitutional disease (inherited disease and prenatal diagnostics), cancer, and infectious disease.

Rotation Structure
Residents spend hands-on time at the bench working with technologists to understand the laboratory techniques underlying genetic diagnosis. Daily integrated sign-out of cytogenetics and molecular genetic pathology cases focuses on how genetic alterations contribute to the diagnosis and pathobiology of disease and, in cases of inherited disease, how alterations affect risk throughout a family.

Subspecialty Conferences
Quality assurance and assay development conference (weekly)
General oncology-molecular pathology tumor board (bimonthly)
Prenatal diagnosis center clinic
Prenatal diagnosis center case conference

Research Opportunities
Active clinical and translational research is ongoing in cytogenetics and molecular pathology.

Have Questions or Need Help?
If you have questions or would like to learn more about the Anatomic and Clinical Pathology Residency Program at Cedars-Sinai, please call or send a message to Program Coordinator, Chau Nguyen.
Department of Pathology and Laboratory Medicine
8700 Beverly Blvd., Room 8709
Los Angeles, CA 90048-1804