Hematopathology Rotation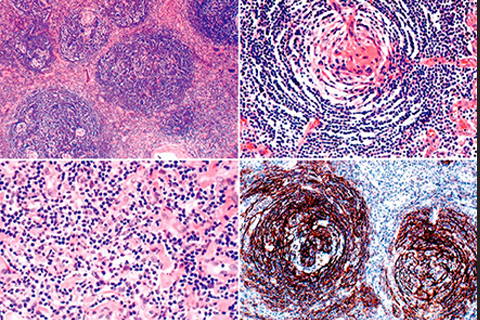 The hematopathology rotation is a broad-based experience in all aspects of clinical and anatomic hematopathology. The program emphasizes a clinicopathologic and integrated approach to bone-marrow and solid-tissue diagnostic hematopathology utilizing histology, immunohistochemistry, 10-color-flow cytometry, in situ hybridization, cytogenetic and molecular studies (gene-rearrangement and next-generation sequencing). The division also boasts a fellowship with enrichment of the resident's experiences by both fellow and faculty guidance and mentoring.
Case Mix
The 40-plus adult and pediatric hematologists/oncologists see a wide variety of neoplastic and non-neoplastic hematology cases from the outpatient community and the inpatient population.

Rotation Structure
There is a structured day allowing the residents to be involved in all aspects of the service, including daily interactions with clinicians. All bone marrow and lymphoma work-ups are reviewed at the multiheaded scope, increasing residents' exposure to the number and variety of cases. Residents can take advantage of a very large collection of interesting case slides and captured images from the department's archives. The hematopathology faculty has generated many systematic review materials for flow cytometry and histology for an efficient learning process.
There is a separate, one-month coagulation rotation where residents provide consultations on coagulopathies and hemoglobinopathies (see separate coagulation rotation description).

Sample Daily Schedule
7:30-8:30 a.m.

Resident conference (when occurring)

8:30-9:30 a.m.

Obtain patient histories
Preview bone marrow cases and lymphoma work-ups

9:30 to 11 a.m.

Morning sign-out with attending

11 a.m. to noon
Noon to 1 p.m.

Resident conference (when occurring)

1 to 4 p.m.

Preview and write up lymphoma work-ups and bone marrow cases, flow cytometry cases, consults, and peripheral blood smear reviews
Review cytogenetic and molecular tests results
Round on flow cytometry benches
Perform lab administrative responsibilities

4 to 6 p.m.

Afternoon sign-out with attending

Subspecialty Conferences
Resident-faculty hematopathology topic review (weekly)
Hematopathology journal club (monthly)
Hematology-oncology grand rounds / lymphoma tumor board (bimonthly)

Research Opportunities
Many research opportunities are available that involve improving diagnostic accuracy, quality improvement, translational research, and cytogenetic and molecular diagnostics related to hematopathology.

Have Questions or Need Help?
If you have questions or would like to learn more about the Anatomic and Clinical Pathology Residency Program at Cedars-Sinai, please call or send a message to Program Coordinator, Chau Nguyen.
Department of Pathology and Laboratory Medicine
8700 Beverly Blvd., Room 8709
Los Angeles, CA 90048-1804