Autopsy Pathology Rotation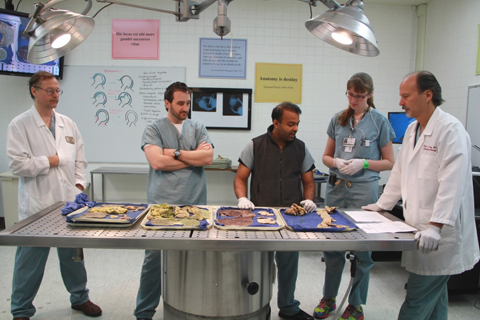 The autopsy rotation provides the basis for understanding anatomy, gross pathology and histology, as well as understanding and applying clinical-pathologic correlation, which is critical to making accurate interpretations of anatomic findings.
The goals for the resident are to:
Master the techniques of organ dissection and tissue sectioning
Develop an approach to diagnosis
Learn how to present at conferences
Case Mix
Adult and perinatal autopsies are performed at Cedars-Sinai. The autopsy faculty includes two deputized coroners, so coroner's cases with medical interest are performed at Cedars-Sinai as well, though infrequently.
In-depth experience in forensic autopsy is gained during a one-month rotation at the Los Angeles County Department of Medical Examiner-Coroner during the latter part of the residency program.
Rotation Structure
Three months of autopsy are done at Cedars-Sinai during the first and second years. Initially, residents work one-on-one with a chief resident to learn the steps of an autopsy (clinical history review, external examination, performance and interpretation of gross autopsy findings, and preparation of the provisional anatomic diagnosis). Residents select material for histologic sections, review the slides, sign out with the faculty and develop a final anatomic diagnosis.
When there are no autopsy duties, additional educational experiences are made available, incorporating a month of non-grossing breast, a month of non-grossing gynecology, and/or a month of frozen sections. There is back-up from the neuropathology resident if multiple autopsies are done in one day.
Daily Schedule
Autopsy begins in the morning when one is performed and continues until completed.
Histologic sections are taken the same or next day and reviewed before signing out with the attending.

Subspecialty Conferences
Gross Autopsy Conference, second and fourth Thursday: Residents on the autopsy service present gross and select histologic autopsy findings attended by clinicians, pathology residents and autopsy faculty.
Mors Gaudet Conference, bimonthly: This is a formal slide presentation of an interesting autopsy that includes clinical and pathologic findings, cause of death, and pertinent discussion with the pathology faculty and house staff. It is an excellent opportunity to hone presentation skills.
Brain cutting, every Monday.
Research Opportunities
Autopsy material is available for case reports or other clinical or translational studies.

Have Questions or Need Help?
If you have questions or would like to learn more about the Anatomic and Clinical Pathology Residency Program at Cedars-Sinai, please call or send a message to Program Coordinator, Chau Nguyen.
Department of Pathology and Laboratory Medicine
8700 Beverly Blvd., Room 8709
Los Angeles, CA 90048-1804