Dermatopathology Rotation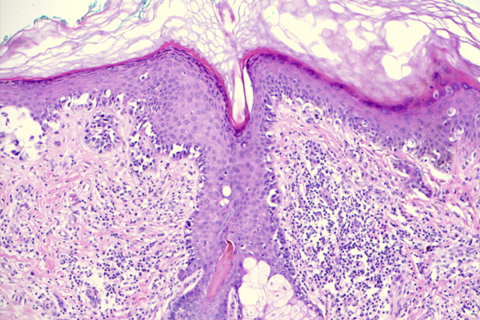 The overall goal of the dermatopathology rotation is to:
Develop a working knowledge of, and comfort with, basic diagnostic dermatopathology at the general surgical pathologist level.
Dermatopathology is a boarded subspecialty requiring fellowship training, but surgical pathologists may practice dermatopathology in a variety of settings.

Case Mix
The dermatopathology service handles more than 8,000 skin biopsies annually, encompassing a wide variety of neoplastic and inflammatory conditions. Biopsies primarily come from outpatient offices. There is a robust number of resections for melanoma and cutaneous soft tissue tumors, as well as sentinel lymph node biopsies for melanoma and Merkel cell carcinoma. These typically come from inpatient operating rooms. Resections of other organs (liver, lung, intestine) that contain metastases of cutaneous malignancies are also handled by the dermatopathology service.
While most cases are evaluated based on H&E morphologic findings, a full range of diagnostic modalities is employed, including histochemical stains, immunohistochemistry, direct immunofluorescence, fluorescence in situ hybridization, and molecular techniques such as polymerase chain reaction.

Rotation Structure
Residents rotate for one month. Due to the large volume and wide variety of diagnoses — there are more diagnostic entities in dermatopathology than in the remainder of surgical pathology combined — the teaching focus is on maximum/optimum exposure rather than preview-and-report preparation skills learned on other services. Residents are, however, expected to be actively engaged in formulating diagnoses.
The rotation has individual content modules for self-study. These include a pre-test, goals and objectives (including specific diagnostic entities to learn), selected articles, reading assignments, slide presentations and links to subject lectures.

Daily Schedule
Attend daily sign-out with the dermatopathologist on duty
Get assignment of selected cases for preview-and-report drafting prior to sign-out
Subspecialty Conferences
Residents are expected to attend monthly conferences, and may be tasked to present cases or research cases being presented. Conferences include:
Cutaneous malignancy conference, first Wednesday
Sarcoma tumor conference, every other Tuesday

Research Opportunities
There are opportunities for clinical research in dermatopathology within the pathology department, given the volume of material in this area.

Have Questions or Need Help?
If you have questions or would like to learn more about the Anatomic and Clinical Pathology Residency Program at Cedars-Sinai, please call or send a message to Program Coordinator, Chau Nguyen.
Department of Pathology and Laboratory Medicine
8700 Beverly Blvd., Room 8709
Los Angeles, CA 90048-1804